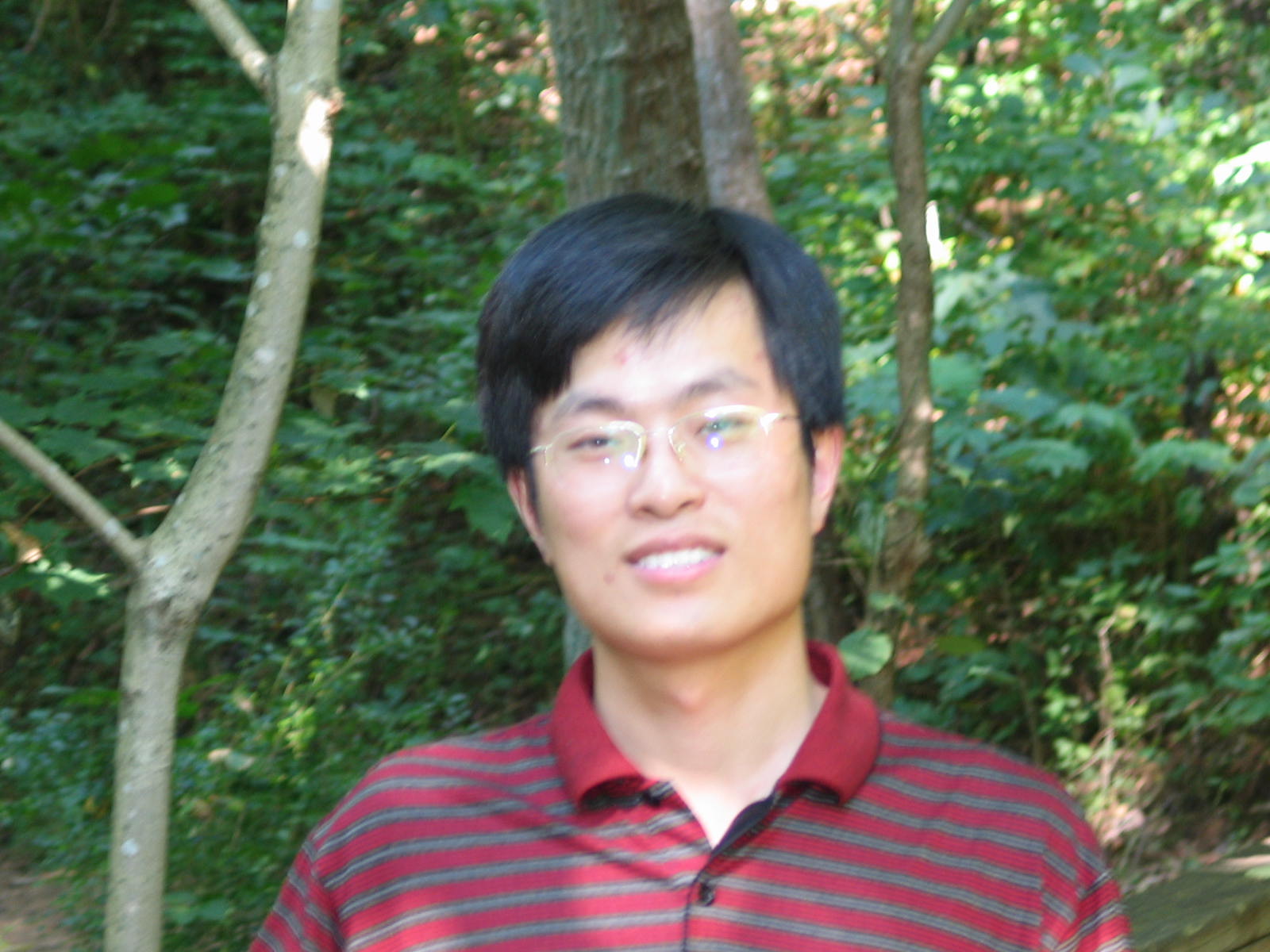 ---
Education Research Publications Reports Opportunities People&Labs Packages Useful Links Hobbies
---
Education (A journey of a thousand miles starts from a single step)
Back to the top
My research is mainly focused on image and video processing, which includes image segmentation and video tracking. The topics I am currently interested in are curve evolution methods, anisotropic diffusion techniques, optical flow and particle filters, to name a few.
Back to the top
Journal Publications (Be a person of great value)
Yongsheng

Pan, Douglas J. Birdwell, Seddik M. Djouadi, "Preferential image segmentation using trees of shapes,"

IEEE Transactions on Image Processing,

Volume 18, Issue 4, Pages 854-866, April, 2009 (pdf).
Yongsheng

Pan, Tian-ge Zhuang, "Decision tree and its application in the data mining of breast disease images,"

Application Research of Computers

, Volume 145, Issue 9, Pages 78-79, 2002.

Yongsheng Pan,

Won-Ki Jeong, Ross Whitaker, "Markov Surfaces: A Probabilistic Framework for User-Assisted Three Dimensional Image Segmentation,"

Submitted to Computer Vision and Image Understanding

.
Zhisong Fu, Robert M. Kirby,

Yongsheng Pan

, Ross Whitaker, Won-Ki Jeong, "Fast Iterative Method for Eikonal Equations on Triangular Surface,"

Submitted to SIAM Journal on Scientific Computing

.
Back to the top
Conference Papers (Be a person of value)
Yongsheng Pan

, Ross Whitaker, Arvi Cheryauka, Dave Ferguson, "Regularized 3D Iterative Reconstruction on a Mobile C-arm CT,"

Proceedings of the first CT meeting

, pp. 124-127, Salt Lake City, USA, 2010.

Yongsheng Pan

, Ross Whitaker, Arvi Cheryauka, Dave Ferguson, "TV-regularized Iterative Image Reconstruction on a Mobile C-ARM CT,"

Accepted by SPIE Medical Imaging 2010

(pdf).

Yongsheng Pan,

Won-Ki Jeong, Ross Whitaker, "Markov Surfaces: A Probabilistic Framework for User-Assisted Three Dimensional Image Segmentation,"

Proceedings of MICCAI 2009 workshop on Probabilistic Models for Medical Image Analysis

, London, UK, 2009 (pdf).

Yongsheng Pan

, Ross Whitaker, Arvi Cheryauka, Dave Ferguson, "Feasibility of GPU-assisted iterative image reconstruction for mobile C-ARM CT,"

Proceedings

of

SPIE Medical Imaging

, Volume (2009), Pages 7258J-7258J-9, 2009, Florida, USA (pdf).


Yongsheng Pan,

"Top-down image segmentation using the Mumford-Shah functional and level set image representation,"

Proceedings of International Conference on Acoustics, Speech, and Signal Processing

, 2009, Taipei, China (pdf).
Bruce Johnson,

Yongsheng Pan,

"A sensitivity analysis of initial conditions for the Mumford-Shah based level set method of image segmentation",

Proceedings of ACM Southeast Regional Conference

, Pages 19-23, Winston-Salem, NC, USA, March 23-24, 2007.
Yongsheng

Pan, Douglas J. Birdwell, Seddik M, Djouadi, "Efficient bottom-up image segmentation using region competition and the Mumford-Shah model for color and textured images,"

Proceedings of International Symposium on Multimedia

, Pages 379-390, San Diego, CA, USA, Dec. 11-13, 2006. (pdf)
Yongsheng

Pan, Douglas J. Birdwell, Seddik M, Djouadi, "An efficient bottom-up image segmentation method based on region growing, region competition and the Mumford Shah functional,"

Proceedings of International Workshop On Multimedia Signal Processing

, Pages 344-348, Victoria, BC, Canada, Oct. 03-06, 2006. (pdf)
Yongsheng

Pan, Douglas J. Birdwell, Seddik M, Djouadi, "Efficient implementation of the Chan-Vese models without solving PDEs,"

Proceedings of International Workshop On Multimedia Signal Processing

, Pages 350-353, Victoria, BC, Canada, Oct. 03-06, 2006. (pdf)
Yongsheng

Pan, Douglas J. Birdwell, Seddik M, Djouadi, "Bottom-up hierarchical image segmentation using region competition and the Mumford-Shah functional,"

Proceedings of International Conference on Pattern Recognition

,

Pages 117 - 121,

Hong Kong, China, Aug. 20-24, 2006. (pdf)
Yongsheng

Pan, Douglas J. Birdwell, Seddik M, Djouadi, "Image segmentation using curve evolution and anisotropic diffusion: an integrated approach,"

Proceedings of International Symposium on Multimedia

,

Pages 387-394

, Irvine, CA, USA, Dec. 12-14, 2005. (pdf)
Yongsheng

Pan, Douglas J. Birdwell, Seddik M, Djouadi, "Probabilistic curve evolution using particle filters,"

Proceedings of IEEE Conference on Decision and Control

, Pages 6335-6340, Seville, Spain, Dec. 12-15, 2005. (pdf)
Yongsheng

Pan, Douglas J. Birdwell, Seddik M. Djouadi, "A gradient and region based geometric snake,"

Proceedings of IEEE International Conference on Acoustics, Speech, and Signal Processing

, Volume II, Pages

745-748,

Philadelphia, PA, USA, Mar. 18-23, 2005. (pdf)
Back to the top
Reports (Be a person of better value! Hurry up!)
Yongsheng

Pan, "Image Segmentation using PDE, Variational, Morphological and Probabilistic Methods", Ph.D. Dissertation, University of Tennessee, Dec. 2007 (pdf)
Zeqian Shen, Yongsheng

Pan, Douglas J. Birdwell, Tse-wei Wang, "Optimal Selection of Image Similarity Search Strategies," (ps)
Back to the top
Opportunities (Winners turn opportunities into success; Losers just let them go)
Back to the top
People and Laboratories (You will not feel lonely with great people)

Back to the top
Packages (Why go and reinvent the wheels?)

Back to the top
Useful Links

Back to the top
Hobbies
(All work and no play makes Jack a dull boy)
badminton
jogging
swimming
Back to the top