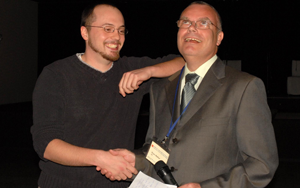 SCI/MRL Lab graduate student
Lowell Edgar
received 1st prize in the Student Presentation Competition for his research presentation at the
Computer Methods in Biomechanics and Biomedical Engineering
conference this last week in Valencia, Spain. The award includes 500 Euros.
Lowell T. Edgar, Scott C. Sibole, Clayton J. Underwood, James E. Guilkey, Jeffrey A. Weiss.
"Simulating the Influence of the Extracellular Matrix on 3D Angiogenesis In Vitro"
Corinne Adams
received an Honorable Mention for her research presentation:
Corinne R. Adams, Benjamin J. Ellis, Michael D. Harris, Andrew E. Anderson, Christopher L. Peters, Jeffrey A. Weiss
"The Acetabular Labrum Alters Cartilage Contact Stresses and Load Transfer Across the Hip Joint"