Notice: Undefined index: sciint in /web/websites/www/htdocs/components/com_joombib/views/pubs/tmpl/default.php on line 39
SCI Publications
2016

J. Beckvermit, T. Harman, C. Wight, M. Berzins. "Physical Mechanisms of DDT in an Array of PBX 9501 Cylinders Initiation Mechanisms of DDT," SCI Institute, April, 2016.
The Deflagration to Detonation Transition (DDT) in large arrays (100s) of explosive devices is investigated using large-scale computer simulations running the Uintah Computational Framework. Our particular interest is understanding the fundamental physical mechanisms by which convective deflagration of cylindrical PBX 9501 devices can transition to a fully-developed detonation in transportation accidents. The simulations reveal two dominant mechanisms, inertial confinement and Impact to Detonation Transition. In this study we examined the role of physical spacing of the cylinders and how it influenced the initiation of DDT.
---

J. Beckvermit, T. Harman, C. Wight,, M. Berzins. "Packing Configurations of PBX-9501 Cylinders to Reduce the Probability of a Deflagration to Detonation Transition (DDT)," In Propellants, Explosives, Pyrotechnics, 2016.
ISSN: 1521-4087
DOI: 10.1002/prep.201500331
The detonation of hundreds of explosive devices from either a transportation or storage accident is an extremely dangerous event. This paper focuses on identifying ways of packing/storing arrays of explosive cylinders that will reduce the probability of a Deflagration to Detonation Transition (DDT). The Uintah Computational Framework was utilized to predict the conditions necessary for a large scale DDT to occur. The results showed that the arrangement of the explosive cylinders and the number of devices packed in a "box" greatly effects the probability of a detonation.
---

M. Berzins, J. Beckvermit, T. Harman, A. Bezdjian, A. Humphrey, Q. Meng, J. Schmidt,, C. Wight. "Extending the Uintah Framework through the Petascale Modeling of Detonation in Arrays of High Explosive Devices," In SIAM Journal on Scientific Computing (Accepted), 2016.
The Uintah framework for solving a broad class of fluid-structure interaction problems uses a layered taskgraph approach that decouples the problem specification as a set of tasks from the adaptove runtime system that executes these tasks. Uintah has been developed by using a problem-driven approach that dates back to its inception. Using this approach it is possible to improve the performance of the problem-independent software components to enable the solution of broad classes of problems as well as the driving problem itself. This process is illustrated by a motivating problem that is the computational modeling of the hazards posed by thousands of explosive devices during a Deflagration to Detonation Transition (DDT) that occurred on Highway 6 in Utah. In order to solve this complex fluid-structure interaction problem at the required scale, algorithmic and data structure improvements were needed in a code that already appeared to work well at scale. These transformations enabled scalable runs for our target problem and provided the capability to model the transition to detonation. The performance improvements achieved are shown and the solution to the target problem provides insight as to why the detonation happened, as well as to a possible remediation strategy.
---

C. Christensen, S. Liu, G. Scorzelli, J. Lee, P.-T. Bremer, V. Pascucci. "Embedded Domain-Specific Language and Runtime System for Progressive Spatiotemporal Data Analysis and Visualization," In Symposium on Large Data Analysis and Visualization, IEEE, 2016.
As our ability to generate large and complex datasets grows, accessing and processing these massive data collections is increasingly the primary bottleneck in scientific analysis. Challenges include retrieving, converting, resampling, and combining remote and often disparately located data ensembles with only limited support from existing tools. In particular, existing solutions rely predominantly on extensive data transfers or large-scale remote computing resources, both of which are inherently offline processes with long delays and substantial repercussions for any mistakes. Such workflows severely limit the flexible exploration and rapid evaluation of new hypotheses that are crucial to the scientific process and thereby impede scientific discovery. Here we present an embedded domain-specific language (EDSL) specifically designed for the interactive exploration of largescale, remote data. Our EDSL allows users to express a wide range of data analysis operations in a simple and abstract manner. The underlying runtime system transparently resolves issues such as remote data access and resampling while at the same time maintaining interactivity through progressive and interruptible computation. This system enables, for the first time, interactive remote exploration of massive datasets such as the 7km NASA GEOS-5 Nature Run simulation, which previously have been analyzed only offline or at reduced resolution.
---

S. Elhabian, C. Vachet, J. Piven, M. Styner, G. Gerig. "Compressive sensing based Q-space resampling for handling fast bulk motion in hardi acquisitions," In 2016 IEEE 13th International Symposium on Biomedical Imaging (ISBI), IEEE, pp. 907--910. April, 2016.
DOI: 10.1109/isbi.2016.7493412
Diffusion-weighted (DW) MRI has become a widely adopted imaging modality to reveal the underlying brain connectivity. Long acquisition times and/or non-cooperative patients increase the chances of motion-related artifacts. Whereas slow bulk motion results in inter-gradient misalignment which can be handled via retrospective motion correction algorithms, fast bulk motion usually affects data during the application of a single diffusion gradient causing signal dropout artifacts. Common practices opt to discard gradients bearing signal attenuation due to the difficulty of their retrospective correction, with the disadvantage to lose full gradients for further processing. Nonetheless, such attenuation might only affect limited number of slices within a gradient volume. Q-space resampling has recently been proposed to recover corrupted slices while saving gradients for subsequent reconstruction. However, few corrupted gradients are implicitly assumed which might not hold in case of scanning unsedated infants or patients in pain. In this paper, we propose to adopt recent advances in compressive sensing based reconstruction of the diffusion orientation distribution functions (ODF) with under sampled measurements to resample corrupted slices. We make use of Simple Harmonic Oscillator based Reconstruction and Estimation (SHORE) basis functions which can analytically model ODF from arbitrary sampled signals. We demonstrate the impact of the proposed resampling strategy compared to state-of-art resampling and gradient exclusion on simulated intra-gradient motion as well as samples from real DWI data.
---

S. Elhabian, P. Agrawal, R. Whitaker. "Optimal parameter map estimation for shape representation: A generative approach," In 2016 IEEE 13th International Symposium on Biomedical Imaging (ISBI), IEEE, pp. 660--663. April, 2016.
DOI: 10.1109/isbi.2016.7493353
Probabilistic label maps are a useful tool for important medical image analysis tasks such as segmentation, shape analysis, and atlas building. Existing methods typically rely on blurred signed distance maps or smoothed label maps to model uncertainties and shape variabilities, which do not conform to any generative model or estimation process, and are therefore suboptimal. In this paper, we propose to learn probabilistic label maps using a generative model on given set of binary label maps. The proposed approach generalizes well on unseen data while simultaneously capturing the variability in the training samples. Efficiency of the proposed approach is demonstrated for consensus generation and shape-based clustering using synthetic datasets as well as left atrial segmentations from late-gadolinium enhancement MRI.
---

Y. Gao, M. Zhang, K. Grewen, P. T. Fletcher, G. Gerig. "Image registration and segmentation in longitudinal MRI using temporal appearance modeling," In 2016 IEEE 13th International Symposium on Biomedical Imaging (ISBI), IEEE, pp. 629--632. April, 2016.
DOI: 10.1109/isbi.2016.7493346
---

Samuel Gratzl, Alexander Lex, Nils Gehlenborg, Nicola Cosgrove, Marc Streit . "From Visual Exploration to Storytelling and Back Again," In Computer Graphics Forum, Vol. 35, No. 3, pp. 491--500. jun, 2016.
ISSN: 1467-8659
DOI: 10.1111/cgf.12925
The primary goal of visual data exploration tools is to enable the discovery of new insights. To justify and reproduce insights, the discovery process needs to be documented and communicated. A common approach to documenting and presenting findings is to capture visualizations as images or videos. Images, however, are insufficient for telling the story of a visual discovery, as they lack full provenance information and context. Videos are difficult to produce and edit, particularly due to the non-linear nature of the exploratory process. Most importantly, however, neither approach provides the opportunity to return to any point in the exploration in order to review the state of the visualization in detail or to conduct additional analyses. In this paper we present CLUE (Capture, Label, Understand, Explain), a model that tightly integrates data exploration and presentation of discoveries. Based on provenance data captured during the exploration process, users can extract key steps, add annotations, and author "Vistories", visual stories based on the history of the exploration. These Vistories can be shared for others to view, but also to retrace and extend the original analysis. We discuss how the CLUE approach can be integrated into visualization tools and provide a prototype implementation. Finally, we demonstrate the general applicability of the model in two usage scenarios: a Gapminder-inspired visualization to explore public health data and an example from molecular biology that illustrates how Vistories could be used in scientific journals.
---

C. Gritton, M. Berzins. "Improving accuracy in the MPM method using a null space filter," In Computational Particle Mechanics, pp. 1--12. 2016.
ISSN: 2196-4386
DOI: 10.1007/s40571-016-0134-3
The material point method (MPM) has been very successful in providing solutions to many challenging problems involving large deformations. Nevertheless there are some important issues that remain to be resolved with regard to its analysis. One key challenge applies to both MPM and particle-in-cell (PIC) methods and arises from the difference between the number of particles and the number of the nodal grid points to which the particles are mapped. This difference between the number of particles and the number of grid points gives rise to a non-trivial null space of the linear operator that maps particle values onto nodal grid point values. In other words, there are non-zero particle values that when mapped to the grid point nodes result in a zero value there. Moreover, when the nodal values at the grid points are mapped back to particles, part of those particle values may be in that same null space. Given positive mapping weights from particles to nodes such null space values are oscillatory in nature. While this problem has been observed almost since the beginning of PIC methods there are still elements of it that are problematical today as well as methods that transcend it. The null space may be viewed as being connected to the ringing instability identified by Brackbill for PIC methods. It will be shown that it is possible to remove these null space values from the solution using a null space filter. This filter improves the accuracy of the MPM methods using an approach that is based upon a local singular value decomposition (SVD) calculation. This local SVD approach is compared against the global SVD approach previously considered by the authors and to a recent MPM method by Zhang and colleagues.
---

A.V. P. Grosset, A. Knoll, C.D. Hansen. "Dynamically Scheduled Region-Based Image Compositing," In Eurographics Symposium on Parallel Graphics and Visualization, June, 2016.
Algorithms for sort-last parallel volume rendering on large distributed memory machines usually divide a dataset equally across all nodes for rendering. Depending on the features that a user wants to see in a dataset, all the nodes will rarely finish rendering at the same time. Existing compositing algorithms do not often take this into consideration, which can lead to significant delays when nodes that are compositing wait for other nodes that are still rendering. In this paper, we present an image compositing algorithm that uses spatial and temporal awareness to dynamically schedule the exchange of regions in an image and progressively composite images as they become available. Running on the Edison supercomputer at NERSC, we show that a scheduler-based algorithm with awareness of the spatial contribution from each rendering node can outperform traditional image compositing algorithms.
---

A. V. P. Grosset, M. Prasad, C. Christensen, A. Knoll, C. Hansen. "TOD-Tree: Task-Overlapped Direct send Tree Image Compositing for Hybrid MPI Parallelism and GPUs," In IEEE Transactions on Visualization and Computer Graphics, IEEE, pp. 1--1. 2016.
DOI: 10.1109/tvcg.2016.2542069
Modern supercomputers have thousands of nodes, each with CPUs and/or GPUs capable of several teraflops. However, the network connecting these nodes is relatively slow, on the order of gigabits per second. For time-critical workloads such as interactive visualization, the bottleneck is no longer computation but communication. In this paper, we present an image compositing algorithm that works on both CPU-only and GPU-accelerated supercomputers and focuses on communication avoidance and overlapping communication with computation at the expense of evenly balancing the workload. The algorithm has three stages: a parallel direct send stage, followed by a tree compositing stage and a gather stage. We compare our algorithm with radix-k and binary-swap from the IceT library in a hybrid OpenMP/MPI setting on the Stampede and Edison supercomputers, show strong scaling results and explain how we generally achieve better performance than these two algorithms. We developed a GPU-based image compositing algorithm where we use CUDA kernels for computation and GPU Direct RDMA for inter-node GPU communication. We tested the algorithm on the Piz Daint GPU-accelerated supercomputer and show that we achieve performance on par with CPUs. Lastly, we introduce a workflow in which both rendering and compositing are done on the GPU.
---

B. Hollister, G. Duffley, C. Butson,, C.R. Johnson. "Visualization for Understanding Uncertainty in Activation Volumes for Deep Brain Stimulation," In Eurographics Conference on Visualization, Edited by K.L. Ma G. Santucci, and J. van Wijk, 2016.
We have created the Neurostimulation Uncertainty Viewer (nuView or nView) tool for exploring data arising from deep brain stimulation (DBS). Simulated volume of tissue activated (VTA), using clinical electrode placements, are recorded along withpatient outcomes in the Unified Parkinson's disease rating scale (UPDRS). The data is volumetric and sparse, with multi-value patient results for each activated voxel in the simulation. nView provides a collection of visual methods to explore the activated tissue to enhance understanding of electrode usage for improved therapy with DBS.
---

A. Humphrey, D. Sunderland, T. Harman, M. Berzins. "Radiative Heat Transfer Calculation on 16384 GPUs Using a Reverse Monte Carlo Ray Tracing Approach with Adaptive Mesh Refinement," In 2016 IEEE International Parallel and Distributed Processing Symposium Workshops (IPDPSW), pp. 1222-1231. May, 2016.
DOI: 10.1109/IPDPSW.2016.93
Modeling thermal radiation is computationally challenging in parallel due to its all-to-all physical and resulting computational connectivity, and is also the dominant mode of heat transfer in practical applications such as next-generation clean coal boilers, being modeled by the Uintah framework. However, a direct all-to-all treatment of radiation is prohibitively expensive on large computers systems whether homogeneous or heterogeneous. DOE Titan and the planned DOE Summit and Sierra machines are examples of current and emerging GPUbased heterogeneous systems where the increased processing capability of GPUs over CPUs exacerbates this problem. These systems require that computational frameworks like Uintah leverage an arbitrary number of on-node GPUs, while simultaneously utilizing thousands of GPUs within a single simulation. We show that radiative heat transfer problems can be made to scale within Uintah on heterogeneous systems through a combination of reverse Monte Carlo ray tracing (RMCRT) techniques combined with AMR, to reduce the amount of global communication. In particular, significant Uintah infrastructure changes, including a novel lock and contention-free, thread-scalable data structure for managing MPI communication requests and improved memory allocation strategies were necessary to achieve excellent strong scaling results to 16384 GPUs on Titan.
---

S. Kim, I.Lyu, V. Fonov, C. Vachet, H. Hazlett, R. Smith, J. Piven, S. Dager, R. Mckinstry, J. Pruett, A. Evans, D. Collins, K. Botteron, R. Schultz, G. Gerig, M. Styner. "Development of Cortical Shape in the Human Brain from 6 to 24 Months of Age via a Novel Measure of Shape Complexity," In NeuroImage, Vol. 135, Elsevier, pp. 163--176. July, 2016.
DOI: 10.1016/j.neuroimage.2016.04.053
The quantification of local surface morphology in the human cortex is important for examining population differences as well as developmental changes in neurodegenerative or neurodevelopmental disorders. We propose a novel cortical shape measure, referred to as the 'shape complexity index' (SCI), that represents localized shape complexity as the difference between the observed distributions of local surface topology, as quantified by the shape index (SI) measure, to its best fitting simple topological model within a given neighborhood. We apply a relatively small, adaptive geodesic kernel to calculate the SCI. Due to the small size of the kernel, the proposed SCI measure captures fine differences of cortical shape. With this novel cortical feature, we aim to capture comparatively small local surface changes that capture a) the widening versus deepening of sulcal and gyral regions, as well as b) the emergence and development of secondary and tertiary sulci. Current cortical shape measures, such as the gyrification index (GI) or intrinsic curvature measures, investigate the cortical surface at a different scale and are less well suited to capture these particular cortical surface changes. In our experiments, the proposed SCI demonstrates higher complexity in the gyral/sulcal wall regions, lower complexity in wider gyral ridges and lowest complexity in wider sulcal fundus regions. In early postnatal brain development, our experiments show that SCI reveals a pattern of increased cortical shape complexity with age, as well as sexual dimorphisms in the insula, middle cingulate, parieto-occipital sulcal and Broca's regions. Overall, sex differences were greatest at 6months of age and were reduced at 24months, with the difference pattern switching from higher complexity in males at 6months to higher complexity in females at 24months. This is the first study of longitudinal, cortical complexity maturation and sex differences, in the early postnatal period from 6 to 24months of age with fine scale, cortical shape measures. These results provide information that complement previous studies of gyrification index in early brain development.
---

M. Larsen, K. Moreland, C.R. Johnson,, H. Childs. "Optimizing Multi-Image Sort-Last Parallel Rendering," In Symposium on Large Data Analysis and Visualization, IEEE, 2016.
Sort-last parallel rendering can be improved by considering the rendering of multiple images at a time. Most parallel rendering algorithms consider the generation of only a single image. This makes sense when performing interactive rendering where the parameters of each rendering are not known until the previous rendering completes. However, in situ visualization often generates multiple images that do not need to be created sequentially. In this paper we present a simple and effective approach to improving parallel image generation throughput by amortizing the load and overhead among multiple image renders. Additionally, we validate our approach by conducting a performance study exploring the achievable speed-ups in a variety of image-based in situ use cases and rendering workloads. On average, our approach shows a 1.5 to 3.7 fold improvement in performance, and in some cases, shows a 10 fold improvement.
---

D. Maljovec, S. Liu, Bei Wang, V. Pascucci, P. T. Bremer, D. Mandelli, C. Smith.. "Analyzing Simulation-Based PRA Data Through Traditional and Topological Clustering: A BWR Station Blackout Case Study," In Reliability Engineering & System Safety, Vol. 145, Elsevier, pp. 262--276. January, 2016.
DOI: 10.1016/j.ress.2015.07.001

Dynamic probabilistic risk assessment (DPRA) methodologies couple system simulator codes (e.g., RELAP, MELCOR) with simulation controller codes (e.g., RAVEN, ADAPT). Whereas system simulator codes model system dynamics deterministically, simulation controller codes introduce both deterministic (e.g., system control logic, operating procedures) and stochastic (e.g., component failures, parameter uncertainties) elements into the simulation. Typically, a DPRA is performed by sampling values of a set of parameters, and simulating the system behavior for that specific set of parameter values. For complex systems, a major challenge in using DPRA methodologies is to analyze the large number of scenarios generated, where clustering techniques are typically employed to better organize and interpret the data. In this paper, we focus on the analysis of two nuclear simulation datasets that are part of the risk-informed safety margin characterization (RISMC) boiling water reactor (BWR) station blackout (SBO) case study. We provide the domain experts a software tool that encodes traditional and topological clustering techniques within an interactive analysis and visualization environment, for understanding the structures of such high-dimensional nuclear simulation datasets. We demonstrate through our case study that both types of clustering techniques complement each other in bringing enhanced structural understanding of the data.
---

P. Muralidharan, J. Fishbaugh, E. Y. Kim, H. J. Johnson, J. S. Paulsen, G. Gerig, P. T. Fletcher. "Bayesian Covariate Selection in Mixed Effects Models for Longitudinal Shape Analysis," In International Symposium on Biomedical Imaging (ISBI), IEEE, April, 2016.
DOI: 10.1109/isbi.2016.7493352
The goal of longitudinal shape analysis is to understand how anatomical shape changes over time, in response to biological processes, including growth, aging, or disease. In many imaging studies, it is also critical to understand how these shape changes are affected by other factors, such as sex, disease diagnosis, IQ, etc. Current approaches to longitudinal shape analysis have focused on modeling age-related shape changes, but have not included the ability to handle covariates. In this paper, we present a novel Bayesian mixed-effects shape model that incorporates simultaneous relationships between longitudinal shape data and multiple predictors or covariates to the model. Moreover, we place an Automatic Relevance Determination (ARD) prior on the parameters, that lets us automatically select which covariates are most relevant to the model based on observed data. We evaluate our proposed model and inference procedure on a longitudinal study of Huntington's disease from PREDICT-HD. We first show the utility of the ARD prior for model selection in a univariate modeling of striatal volume, and next we apply the full high-dimensional longitudinal shape model to putamen shapes.
---

C. Partl, S. Gratzl, M. Streit, A. Wassermann, H. Pfister, D. Schmalstieg, A. Lex. "Pathfinder: Visual Analysis of Paths in Graphs," In Computer Graphics Forum (EuroVis '16), Vol. 35, No. 3, pp. 71-80. jun, 2016.
ISSN: 1467-8659
DOI: 10.1111/cgf.12883
The analysis of paths in graphs is highly relevant in many domains. Typically, path-related tasks are performed in node-link layouts. Unfortunately, graph layouts often do not scale to the size of many real world networks. Also, many networks are multivariate, i.e., contain rich attribute sets associated with the nodes and edges. These attributes are often critical in judging paths, but directly visualizing attributes in a graph layout exacerbates the scalability problem. In this paper, we present visual analysis solutions dedicated to path-related tasks in large and highly multivariate graphs. We show that by focusing on paths, we can address the scalability problem of multivariate graph visualization, equipping analysts with a powerful tool to explore large graphs. We introduce Pathfinder, a technique that provides visual methods to query paths, while considering various constraints. The resulting set of paths is visualized in both a ranked list and as a node-link diagram. For the paths in the list, we display rich attribute data associated with nodes and edges, and the node-link diagram provides topological context. The paths can be ranked based on topological properties, such as path length or average node degree, and scores derived from attribute data. Pathfinder is designed to scale to graphs with tens of thousands of nodes and edges by employing strategies such as incremental query results. We demonstrate Pathfinder's fitness for use in scenarios with data from a coauthor network and biological pathways.
---

P. Rosen, B. Burton, K. Potter, C.R. Johnson. "muView: A Visual Analysis System for Exploring Uncertainty in Myocardial Ischemia Simulations," In Visualization in Medicine and Life Sciences III, Springer Nature, pp. 49--69. 2016.
DOI: 10.1007/978-3-319-24523-2_3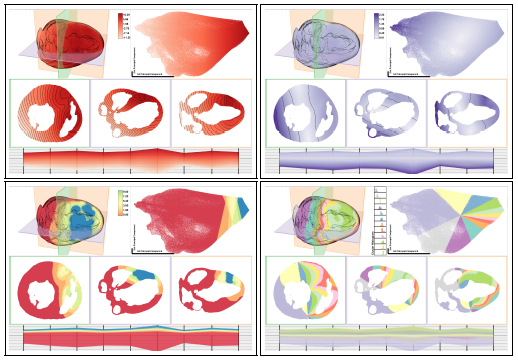 In this paper we describe the Myocardial Uncertainty Viewer (muView or µView) system for exploring data stemming from the simulation of cardiac ischemia. The simulation uses a collection of conductivity values to understand how ischemic regions effect the undamaged anisotropic heart tissue. The data resulting from the simulation is multi-valued and volumetric, and thus, for every data point, we have a collection of samples describing cardiac electrical properties. µView combines a suite of visual analysis methods to explore the area surrounding the ischemic zone and identify how perturbations of variables change the propagation of their effects. In addition to presenting a collection of visualization techniques, which individually highlight different aspects of the data, the coordinated view system forms a cohesive environment for exploring the simulations.We also discuss the findings of our study, which are helping to steer further development of the simulation and strengthening our collaboration with the biomedical engineers attempting to understand the phenomenon.
---

U. Rüde, K. Willcox, L. C. McInnes, H. De Sterck, G. Biros, H. Bungartz, J. Corones, E. Cramer, J. Crowley, O. Ghattas, M. Gunzburger, M. Hanke, R. Harrison, M. Heroux, J. Hesthaven, P. Jimack, C. Johnson, K. E. Jordan, D. E. Keyes, R. Krause, V. Kumar, S. Mayer, J. Meza, K. M. Mørken, J. T. Oden, L. Petzold, P. Raghavan, S. M. Shontz, A. Trefethen, P. Turner, V. Voevodin, B. Wohlmuth, C. S. Woodward. "Research and Education in Computational Science and Engineering," Subtitled "Report from a workshop sponsored by the Society for Industrial and Applied Mathematics (SIAM) and the European Exascale Software Initiative (EESI-2)," Aug, 2016.
Over the past two decades the field of computational science and engineering (CSE) has penetrated both basic and applied research in academia, industry, and laboratories to advance discovery, optimize systems, support decision-makers, and educate the scientific and engineering workforce. Informed by centuries of theory and experiment, CSE performs computational experiments to answer questions that neither theory nor experiment alone is equipped to answer. CSE provides scientists and engineers of all persuasions with algorithmic inventions and software systems that transcend disciplines and scales. Carried on a wave of digital technology, CSE brings the power of parallelism to bear on troves of data. Mathematics-based advanced computing has become a prevalent means of discovery and innovation in essentially all areas of science, engineering, technology, and society; and the CSE community is at the core of this transformation. However, a combination of disruptive developments---including the architectural complexity of extreme-scale computing, the data revolution that engulfs the planet, and the specialization required to follow the applications to new frontiers---is redefining the scope and reach of the CSE endeavor. This report describes the rapid expansion of CSE and the challenges to sustaining its bold advances. The report also presents strategies and directions for CSE research and education for the next decade.
---