The need to visualize 3D volumes is a ubiquitous problem is medicine, engineering, and the computational sciences. These volumes are often complex and contain a wide range of scalar values that represent things like different tissue types, pressure fields, and temperatures. In this assignment you'll gain experience with one of the most challenging aspects of volume render: transfer function design.
Understanding Transfer Functions


To begin this assignment, you will explore a volume rendering tool:
ImageVis3D
. They also have
several sample volumes
for you to download. Download one or more of these sample volumes, and load them into ImageVis3D. Then, in "Workspace", click on the "1D transfer function editor." Now, you will explore this editor to create your own custom transfer functions for your selected volume. Try and make a decent image; notice that this is not easy to do! Pay attention to the critical alpha channel, as this allows you to effectively hide different portions of the volume.
In your write-up, include the data set you chose to explore and several images of different stages of your exploration. Then, answer the following:
What did you like about the transfer function editor?
What is difficult about this editor / widget?
How would you improve the 1D transfer function editor?
Running the Volume Renderer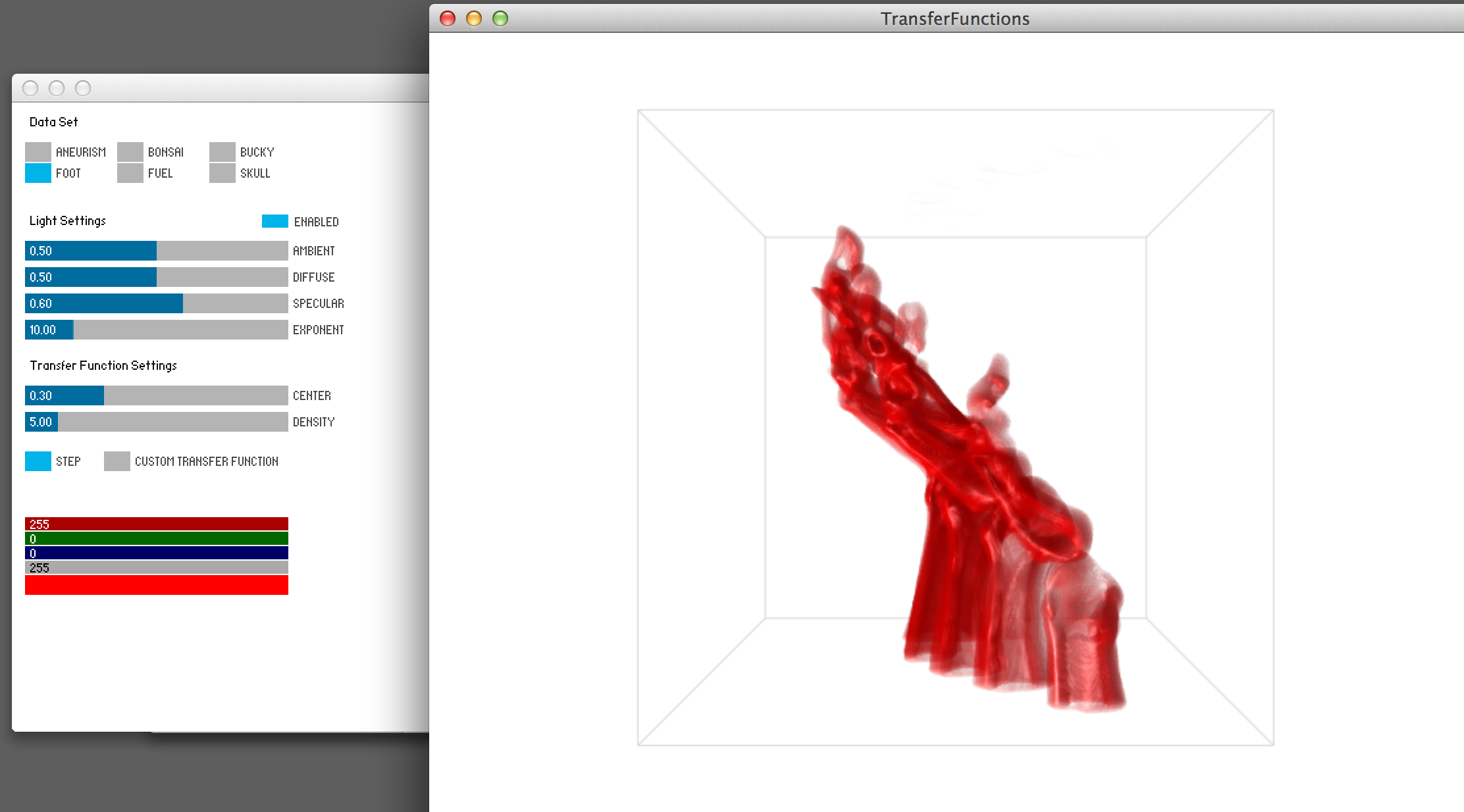 A challenging concept for volume rendering is transfer function design. As such, we are providing you with a volume renderer, courtesy of
Dr. Christoph Garth
at the University of Kaiserslautern. You can find the
code for the assignment here
. You will be modifying a single file (
Controls.java
), which will update the control panel window.
First, test the volume renderer as it is. You will need to download the assignment code as well as the latest version of Processing -- NOTE: this assignment requires you to be running Processing 2.1! If you have a slower computer, you may wish to go to the Engman lab as the volume renderer will rely on a fairly modern GPU; the computers in the Engman lab run the code well (see the data exploration assignment). Load this program up in Processing and run it. You should successfully get a screen as on the right.
Volume Visualization and Control Panel
In the volume rendering window, you can move the dataset around using the left and right mouse keys + dragging. This style of panning and zooming interaction is nearly universal for volume visualization tools.
After running the program, explore the current GUI for the control panel. The control panel widgets are generated using the
controlP5 library
, a Processing widget library that many use for buttons, sliders, etc. Explore this interface. You can choose different data sets and details about each will be printed in the Processing console. You can edit lighting settings, or disable them completely. Different settings for lighting often play a critical role in effective 3D images. The last set of options in the control panel deals with transfer functions. The
center
and
density
variables tweak the parameters to a
step
function, which is the default transfer function mode. There is also a color picker below that, but please note that the alpha channel is not used. Choose one of the data sets provided and tweak the
step
transfer function and lighting settings, in order to produce an effective rendering of your volume. Attach a screenshot of both the control panel and the volume, and then answer the following:
What were you able to find from your volume data set?
What is useful about the step function?
What makes this particular function limited?
Code Structure
The main Processing sketch ( TransferFunctions.pde ) has very little code because it calls two other files: one for rendering the volume ( VolumeRenderer.java ) and another for creating a control panel ( Controls.java ). For this assignment, you will only be required to edit the control panel, and you are welcome to treat the rest of the code as a black-box that just works. For those more experienced with Java, OpenGL, and GLSL, you are welcome to explore more, if you wish, but be sure you complete the assignment. If you have any difficulties, feel free to contact a TA.
Designing Your Own Transfer Function Widget
The main purpose of this assignment is for you to design your own 1D transfer function widget. But first, you should take a step away from the code and go back to pencil and paper. Think about different ways to represent and encode a 1D transfer function. What controls will the user have access to? What user interactions will exist to make it a useful widget? You may also wish to consider the extra credit, at the end of the assignment. Try out multiple ideas, sketch two or three possible widgets that are significantly different. Scan each of your sketches into your digital notebook and explain how the interactivity works in each.
Note that most transfer function widgets give the users some context about the distribution of scalar values in the volume, ie. they often show histograms of the scalar values. These histograms can help a user to select appropriate colors and alpha values by targetting the most (or sometimes least) prevalant values. You may want to consider "scenting" your transfer function widget with a histogram.
Pick one to implement. You will be creating your widget so that it shows up on the empty, right-hand side of the Control Panel window. You will implement this widget using Processing code, and below we describe in detail where this code goes and what aspects of the existing data structures your widget must modify. The end result of your code will be to take the user input from your widget and use it to fill in the specific data structures in the code that specify the transfer function values (for both color and alpha).
Your widget code will go in Controls.java. In the implementation details below we give details on how to use the code we have provided you. Include a screenshot of your interactive widget in your digital notebook and answer the following:
Which of your different sketches was implemented in the code? How does it work? Why did you choose this idea?
Finding Good Transfer Functions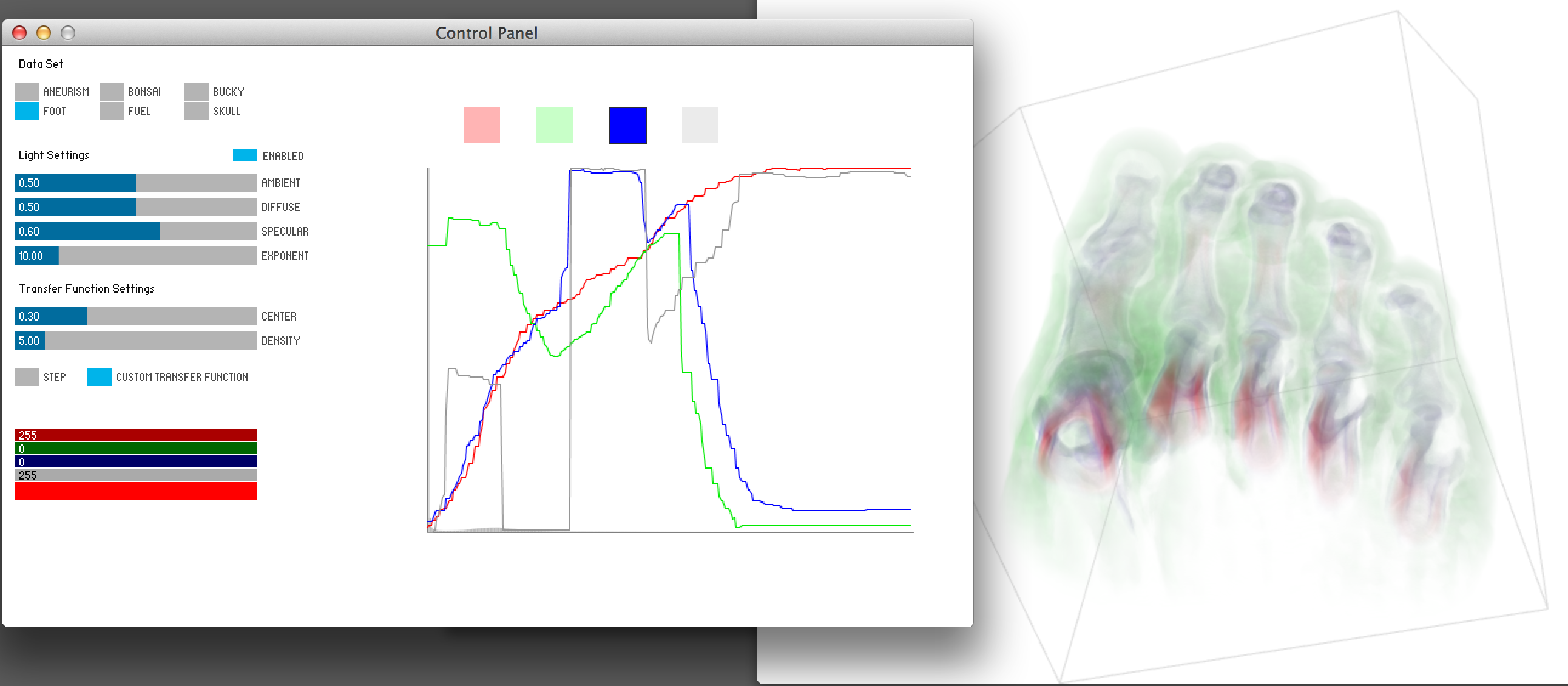 With your interactive widget, explore two of the included data sets, and create a good transfer function for each of them. See if you can find anything interesting or unique within your data sets. Include screenshots of your widget and the volume for each of the two data sets, and then answer the following:
Did you find anything interesting in the data sets?
What are the strengths and weaknesses of your design?
What would you change to make your widget more effective?
What are the pros and cons for volume rendering as a technique? What are the challenges?
Extra Credit
Design a 1D transfer function widget that uses a better perceptual color space for creating more effective transfer functions. You are welcome to use HSV or HSL, if you wish, but feel free to explore better color spaces, like Lab or HCL. What are the benefits of using a more perceptually uniform color space in creating transfer functions? What are the limitations or drawbacks of this approach?
If you choose to do this extra credit, you do not need to design your widget using RGBA -- you can start with this more advanced color space and complete the assignment with it.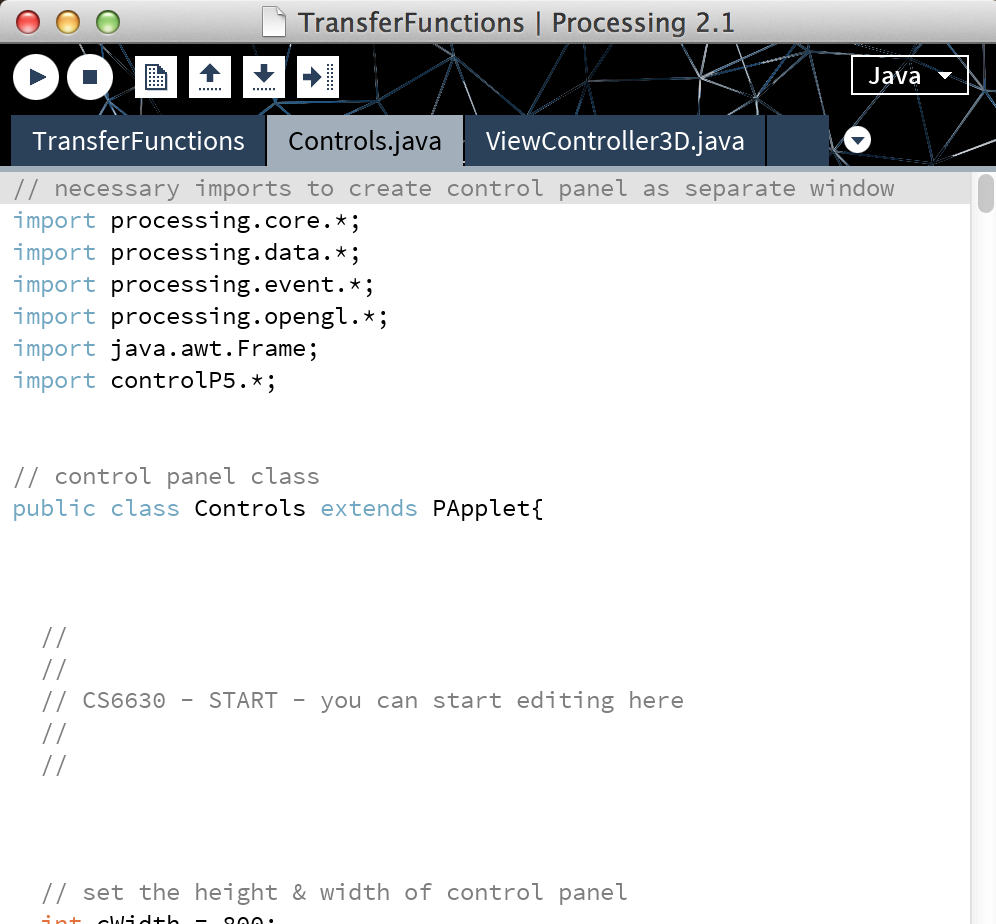 Implementation Details
To aid with designing your widget, we have provided certain data structures for you to use. Again, be sure you are only editing in Controls.java, see right. Also, we have placed comments in that file, with the tag CS6630, to help you know where you should edit in-between. Unless you know what you are doing, we do not recommend editing code outside of there.
We have provided two variables, cWidth and cHeight, that will set the height and width of the control panel. The default elements of the control panel are set later in the file, but you should not need to edit them. The GUI of the control panel already gives you a button to switch between two transfer function modes. The second mode (custom transfer function) is the one you will use for your own widget.
We are also providing you with the volume data. First, an integer, gridSize, stores the number of data values on each edge of our 3D grid (which is uniform in all three dimensions). Also, data[x][y][z] is a 3D integer array that stores the scalar values of the volume, which have a range between 0 and 255. We also provide the min and max values for the current data set.
To define the transfer functions used by the volume renderer, your widget will need let the user set the color and alpha for each scalar value in the volume, and then fill in four different integer arrays with those values. These four arrays (red, green, blue, and alpha) each have a size of 256, which represents the scalar values 0-255. At each array element you'll need to set the appropriate color channel value for that scalar value. For example, if I want the scalar value of 10 to be transparent red, I'd set red[9]=255, green[9]=blue[9]=0, and alpha[9]=150. The color channel array values should be between 0 and 255. Thus, to find the color for the scalar value of 255, the volume renderer will check the following: red[255], green[255], blue[255], and alpha[255]. Please note that we have white backgrounds, so if all the RGB values are 0, then you are using the color black. However, the alpha channel is set so that values of 0 are transparent and values of 255 are solid. By default, the RGBA arrays are all transparent white.
If you are scenting your transfer function widget with a histogram of the scalar field values, then be aware that some of the data sets will be dominated by a single value -- this is quite common in volumes. These dominate values are most often uninteresting, such as the background or noise. You are free to "process" your histogram or display it in such a way that will minimize these dominate values. Please make sure to explain what you do in your notebook.
Like in Processing, the code has a setup() method. Do not remove or change the ordering of the initial setup calls. But, you are welcome to add more to the setup if you wish. We also have a draw() method, where the bulk of your widget will likely be written. Please note that there is a special function, updateTransferFunction(), which will pass your RGBA arrays in their current form and update the volume renderer with that data, if you are set to the proper transfer function mode (custom transfer function). You do not need to call this every draw cycle, but you must have a clear way to call this function in your widget in order to update the volume renderer with the user's transfer function.
Since you are writing in a Java file, there may be some quirks with using Processing commands. For example, to create a color, Java officially recognizes them as an int (not color!). Also, if you wish to write your own methods, you must be sure to specify them as public or private, like the setup() and draw() methods. You can do this for Processing methods that work like normal, like mouseClicked() or mouseDragged(). There may be more quirks, and, if you have trouble, feel free to contact the TAs.
Submission Details
As before, you must submit your PDF notebook and ZIP archive of your data and code via Canvas. We should be able to run your code as is.
Grading
You will be graded on how well you address the following:
10 pts: When unzipped, project runs without errors or modifications on our part
15 pts: Exploration with ImageVis3D: images and discussion
10 pts: Exploration with initial tool: images and discussion
15 pts: Custom widget sketches and discussion
40 pts: Custom widget implementation (functionality,usability, and creativity)
10 pts: Exploration with custom widget: images and discussion
10 pts:* Extra Credit 1
*This is extra credit for everyone.
Please format your notebook so these are easy to find. If we can't find something in a reasonable amount of time, you will not recieve credit for it.