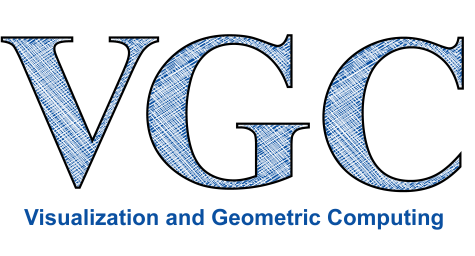 The VGC group was started under the direction of Professor Cláudio T. Silva at the University of Utah in 2004 to perform research in the areas of visualization and geometric computing. The group consists of undergraduate students, graduate students, and occasional post-docs at the University of Utah.
People
Dr. Cláudio T. Silva, Head of VGC Louis Bavoil, PhD student Steven Callahan, PhD student Dr. Shachar Fleishman, Post-doc Emanuele Santos, PhD student Carlos Scheidegger, PhD student John Schreiner, PhD student Nathan Smith, Undergraduate student Wayne Tyler, Undergraduate student Huy T. Vo, PhD student

Projects
VisTrails - A new system that enables interactive multiple-view visualizations by simplifying the creation and maintenance of visualization pipelines, and by optimizing their execution.
HAVS - The Hardware-Assisted Visibility Sorting (HAVS) algorithm is a GPU-based, direct volume renderer for unstructured grids. The algoirthm operates in both object- and image-space and includes a sample-based level-of-detail algorithm.
Afront - Afront is a tool for meshing and remeshing surfaces. The main application of Afront is the generation of high-quality meshes from a variety of surface descriptions, from triangle meshes themselves (remeshing) to implicit surfaces to point set surfaces.
Publications
to appear...
Tutorials
GPU-Based Volume Rendering of Unstructured Grids, SIBGRAPI 2005