Up:
Simulations
Previous:
Simulations
Next:
Results
---
Simulation results were evaluated by comparing only the nodes on the torso surface, the computed equivalent of a body surface potential map (BSPM).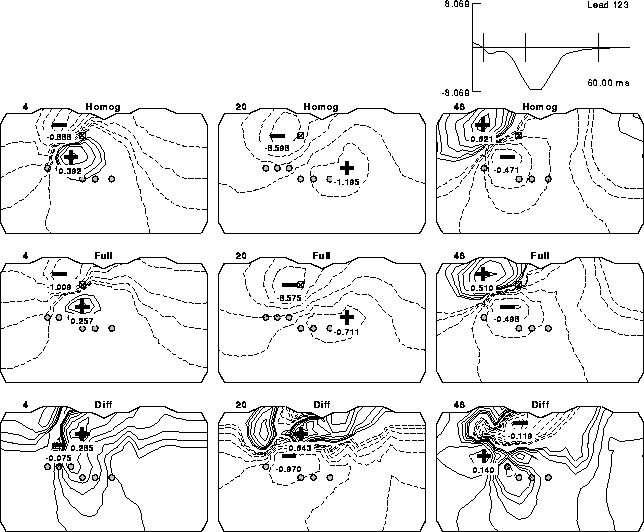 Figure 5:   Computed BSPMs under different conductivity assumptions. Each map is a projection of the torso surface with the anterior region in the left half of each map and the (shared) edges corresponding to the right mid-axillary line. Contours indicate isopotentials spaced logarithmically and scaled individually for each map; solid lines indicate positive potentials and dashed lines negative potentials. The extrema for each map are marked and labeled. In the time signal trace in the upper, rightmost panel, the three vertical lines indicate the time instants selected for maps displayed in each column of the figure. The rows of maps differ in the conductivities assumed with the homogenous torso used to generate the results shown in the uppermost row, the full inhomogeneous torso in the middle row and their difference displayed in the lowest row.
Figure 5 shows examples of BSPMs for two different simulations and their difference at three different time instants. The examples in the top row were calculated using a completely homogeneous model; the examples in the middle row were calculated using the full model. The examples in the third row were calculated by taking the difference between the homogeneous and the full map at that time instant. The number above the upper left corner of each map is the time instant the map represents, which are also marked as vertical lines on the time signal in the upper right-hand corner. The maps are two-dimensional projections of the torso with the anterior of the torso on the left half and the posterior on the right half. Each map has the positive and negative peaks marked on the map with a plus or minus sign and labelled. The dashed contours represent negative values and the solid lines represent positive values.
The fluctuation of the difference maps with time indicates that the effects of inhomogeneities vary with field distribution and should be studied under conditions of realistic epicardial potentials as functions of time. As described in Section "Boundary Condition Data", we generated results for each instant in time through the entire QRS of a single beat recorded from a patient. In order to capture the temporal variation, we report statistical differences both as functions of time as well as averaged over the entire beat.
The statistical parameters used to compare maps were the root mean squared error (ERMS), the relative error (RE), and the correlation coefficient (CC), computed as follows:




The reference values,

, are either the potentials computed with the homogeneous model in the first set of simulations or the potentials from the full model for the second set of simulations.
---




Up:
Simulations
Previous:
Simulations
Next:
Results
Scientific Computing and Imaging
Thu Jul 31 01:56:48 MDT 1997