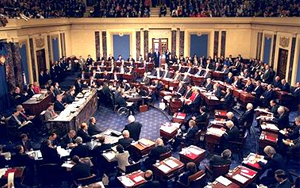 Chris Johnson, SCI Institute director, testified June 23
rd
on Capitol Hill before the Congressional Biomedical Research Caucus. His presentation, "Computing the Future of Biomedicine," had a very large turnout, with more than 90 Senate and Congressional Staffers, NIH, NSF and other funding agencies staff, and Congressmen in attendance.
Rush Holt (Rep. New Jersey) followed up Johnson's presentation with a plea for more funding for fundamental research.
Review from the Federation of American Scientists:
Dr. Chris Johnson, distinguished speaker at the June 23rd Congressional Biomedical Research Caucus, discussed how advanced techniques in biomedical computing, imaging, and visualization are leading to spectacular discoveries in understanding the human body and improving healthcare. He cautioned, however, the breadth and quantity of emerging data has made it difficult for researchers, medical practioners, clinicians, and patients to keep pace with new discoveries and utilize them effectively. Dr. Johnson, urged Congress to support the Digital Human initiative, which he described as a national grand challenge project to promote, unify, and disseminate digital information about the human body and its complex and inter-related systems.
"The ultimate goal of the Digital Human," says Dr. Johnson "is construction of a complete, functioning, accessible simulation of the human body ? from the functioning of DNA and other molecules within individual cells to the operation of entire organ systems such as the heart, lungs, brain, and musculo-skeletal systems. Having a shared framework would allow researchers, medical personnel and engineers to build on each other's work as well as allow biomedical researchers to work effectively together." Dr. Johnson is a Distinguished Professor of Computer Science, Director of the School of Computing and Director of the Scientific Computing and Imaging Institute (SCI) at the University of Utah.