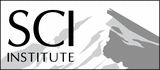 printable version
News
May 2019

Our "RTX Beyond Ray Tracing" (short-)paper got accepted at HPG 2019. Just uploaded, see the publications page.

2018

I moved over to join NVidia. More info on my blog: http://ingowald.blog.
Key Papers...
Assuming you visited this page primarily for the paper links: please have a look at my complete publications page (most recent papers on top). For quick reference, here the probably two most important ones:
Ingo Wald, Sven Woop, Carsten Benthin, Gregory S Johnson, and Manfred Ernst
ACM Transactions on Graphics (proceedings of ACM SIGGRAPH) 2014

Research interests
Ray Tracing
High-performance graphics and Visual Computing using architectures such as Intel Many-Integrated Core (MIC) / Intel Xeon Phi architectures.
Programming Models and Compilers for High-Performance Computing
Photorealistic Image Synthesis and Physically-correct Lighting Simulation
Interactive Global Illumination
Scientific Visualization and High-performance Computing
Parallel and Distributed Computing (in particular on PC clusters and high-throughput computing platforms like Larrabee)
Multiresolution methods (in particular for point-based and volume/isosurface data)
Interactive Visualization of Massively Complex (and potentially time-varying) data sets)
Hierarchical Index Structures and Efficient Traversal Algorithms
Education / Mini-CV
| | | |
| --- | --- | --- |
| 2018-today | | Director, Ray Tracing, NVIDIA |
| 2007-2018 | | Research Scientist (eventually: Principal Engineer), Intel Labs, Intel Corp |
| 2006-2007 | | Research Assistant Professor, University of Utah, Salt Lake City |
| 2005-2006 | | Visiting Assistant Professor, University of Utah, Salt Lake City |
| 2004-2005 | | Research Associate (Post-Doc), Max Planck Institut Informatik in Saarbruecken |
| May 2004 | | PhD in Computer Science (Dr.-ing), Computer Graphics Group, Saarland University |
| 2000-2004 | | Research Assistant, Computer Graphics Group, Saarland University |
| 1993-1999 | | Diplom Informatik (Master of Computer Science equivalent), University of Kaiserslautern |
Links
---
Scientific Computing and Imaging Institute (SCI)
About SCI | SCI People | SCI Coordinates |
---
This web page is maintained by Ingo Wald.
Document last modified on 2/2/19 .