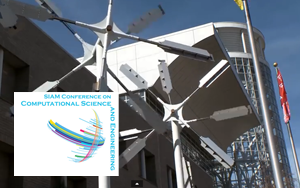 The SIAM CSE15 Co-Chairs: Hans De Sterck (University of Waterloo), Chris Johnson (University of Utah), and Lois Curfman McInnes (Argonne National Laboratory) are happy to report the conclusion of a successful SIAM Computational Science and Engineering (CSE) 2015 Conference.
We were happy to see many of you at the
2015 SIAM Conference on CSE
which took place in Salt Lake City during the past week. With 1,700 registered participants, the conference set a new attendance record for a SIAM conference.
There were 9 invited talks, 300 minisymposium sessions, 6 featured minisymposia, 100 contributed presentations, 4 panel discussions, two minitutorials, and 300 posters.
We thank all speakers and presenters for their contributions in making the conference a success.
For an impression of the sizzling poster sessions that took place at CSE15, see the short video at
https://youtu.be/zbqggZFQUJ8
(Twitter hashtag for CSE15: #SIAMCSE15).
Audio and slide recordings of the invited presentations of CSE15 will be posted online by SIAM in a few weeks.
One of the panels discussed a draft report on "Future directions in CSE research and education", which can be downloaded from the
SIAG-CSE wiki
. We would like to remind you that feedback on this draft report is invited from the whole SIAG-CSE community. Please provide your feedback by submitting comments to this
blogpost
. You are also invited to compose a webpage with your "CSE success story" and submit the URL for inclusion on a list of CSE success stories; see the
SIAG-CSE wiki
for instructions.
At CSE15, the PETSc Core Development Group was honoured with the
SIAM/ACM Prize in CSE
. The 8 prize winners for best posters and best minisymposteria (thematic groups of posters) are listed at
http://www.siam.org/meetings/cse15
, and David Emerson won the BGCE student prize.
Papers are solicited for the SISC special section in association with CSE15. The special Section focuses on two themes – CSE Software and Big Data in CSE – (see
call for papers
) and manuscripts will be accepted until May 31, 2015.
For those of you who attended CSE15, thanks again for your contributions, and with you we are already looking forward to CSE17!
Presentations and slides are available at
https://www.pathlms.com/siam/courses/1043