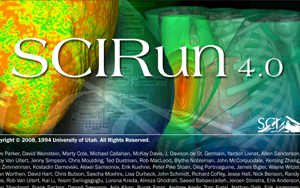 The NIH/NCRR Center for Integrative Biomedical Computing (CIBC) is pleased to announce the release of the 4.0 version of the SCIRun software suite. SCIRun is a problem solving environment for biomedical problems that is based on a dataflow paradigm. The new version contains many bug fixes, a new interface and many new modules. The new 4.0 version is now available as binary download for both OS X and Windows XP/Vista as well as a source download for other platforms.
To download the new SCIRun version 4.0, go to our
CIBC Software portal
.
For questions and further information on the 4.0 SCIRun release, please visit the
CIBC webiste software page
.