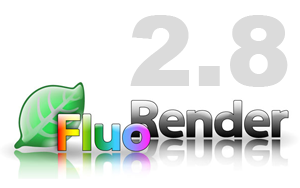 We are happy to announce the 2.8 release of FluoRender. For details, check the release notes and download FluoRender at
www.fluorender.com
.





Release Notes
FluoRender 2.8.0
New Features:
Support of importing several manufacturer-specific confocal formats, including Olympus Image Binary (*.oib), Olympus Original Imaging Format (*.oif), and Zeiss Laser Scanning Microscope (*.lsm).
Variable sample rate for mouse interactions.
Equalization for equalizing uneven brightness of 3D and 4D data. It also enhances details at the same time.
Shadow effects and directional shadows.
Improvements:
Improved user interface. Panels can be hidden or shown with a toolbar button.
Installation packages for FluoRender setup.
FluoRender project files (*.vrp) are associated with the executables if FluoRender is installed with the installation package. Double-clicking the project files will automatically launch FluoRender.
Project files as well as volume datasets can be drag-and-drop to either the FluoRender icon or the main interface to open.