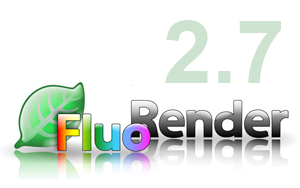 We are happy to announce the 2.7 release of FluoRender. There are some exciting improvements in this version, including a rewritten rendering core, which improves the overall quality and performance of FluoRender. FluoRender can render more fine details, especially in the low signal intensity regions. It renders both volumes and mesh data faster, especially at higher zoom. And parameter adjusting feels smoother. For details, check the release notes and download FluoRender at
www.fluorender.com
.
Release Notes
FluoRender 2.7.0
New Features:
Rendering core rewritten, for better rendering quality and performance.
True 16 bit TIFF support. Parameter settings reflect the actual scalar values.
Real-time smoothing filters for reducing the artificial patterns.
Data within groups can be set to depth mode, even the viewport is set to layer or composite mode.
Micro Blending. It can render accurate colors of multiple channels in depth mode, with an arbitrary number of channels.
User can set the zoom to reflect 1:1 voxel to pixel ratio.
One dataset can be added multiple times for renderings, and each instance can have independent parameter settings.
Improvements:
Several user interface and parameter setting improvements, for better usability.
In MIP mode, and colormapped MIP mode, some parameters are disabled, in order to keep the color accuracy.
Rendering quality and speed for mesh and mesh with volume improved.
Changes:
The four modes for gradient magnitude calculation settings are removed.
User can set the mesh rendering quality by adjusting the number of layers to render.