Dr. Guido Gerig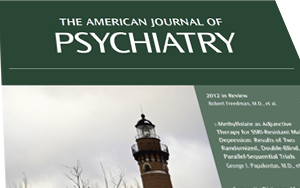 co-authored a paper that made the list of the American Journal of Psychiatry's "Best of 2012" for their paper
"Differences in White Matter Fiber Tract Development Present from 6 to 24 Months in Infants with Autism"
In the
AJP's 2012 Year in Review
, the editors discuss the significance of this paper:
"For years, scientists have viewed research on brain development as essential to discovering the causes of mental illness. However, clinical implications of such research have emerged slowly because of the difficulty of safely assessing the developing child's brain. My favorite article in this year's Journal, by Wolff et al., might begin to reverse this trend.
Wolff and colleagues repeatedly assessed 92 infants at risk for autism by using diffusion tensor imaging, which indexes the integrity of the brain's white matter tracts. The investigators then used these data to compare brain development in the 28 infants who ultimately met criteria for autism with the 64 who did not. Findings suggest that signs of autism manifest in the brain before clinical symptoms are readily apparent. Moreover, these signs continue to change throughout infancy, raising hopes of interrupting this evolving developmental cascade and possibly even preventing the onset of autism. Not only do such findings generate tremendous scientific interest, but they allow clinicians and neuroscientists to join in their search for signs of abnormal infant development. This joint search provides a nidus around which attempts to develop novel treatment might converge."
This is collaborative research of Guido Gerig's Utah research group as part of the NiH/NICHD-funded multi-site ACE-IBIS network (Autism Centers of Excellence - Infant Brain Imaging Study), with principal investigator Dr. Joseph Piven, UNC Chapel Hill).
http://www.ibisnetwork.org/
J.J. Wolff, H. Gu, G. Gerig, J.T. Elison, M. Styner, S. Gouttard, K.N. Botteron, S.R. Dager, G. Dawson, A.M. Estes, A. Evans, H.C. Hazlett, P. Kostopoulos, R.C. McKinstry, S.J. Paterson, R.T. Schultz, L. Zwaigenbaum, J. Piven.
"Differences in White Matter Fiber Tract Development Present from 6 to 24 Months in Infants with Autism,"
In
American Journal of Psychiatry (AJP)
, Note:
Selected as an AJP Best of 2012 paper.
, pp. 1--12. 2012. DOI:
10.1176/appi.ajp.2011.11091447