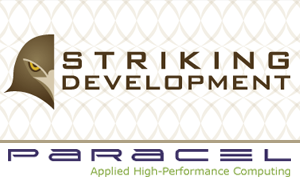 The SCI Institute is pleased to announce that Professor Mike Kirby, faculty member in both the School of Computing and SCI Institute at the University of Utah, is the winner of two AMD Opteron cluster nodes provided by
Paracel, Inc*
. Paracel, a leading provider of applied high-performance computing systems, offered this two-node Paracel Cyclone* Linux cluster as part of a contest on LinuxHPC.org. Professor Kirby's current research interests are in the development and implementation of computational algorithms for solving problems in computational fluid dynamics, solid mechanics and electromagnetics.
Professor Kirby's work in these areas will be propelled forward by Paracel's Cyclone Linux cluster crafted for his computational needs. The system provided will consist of a two-node Cyclone cluster utilizing AMD Opteron processors and preconfigured with Linux Rocks 3.1 operating system.
"I am excited about the opportunity to move my simulations to Opteron's 64 bit architecture in an effort to obtain top simulation performance"
says Prof. Kirby. With the new Cyclone cluster and collaboration with Paracel to obtain optimized library and code compilations, Prof Kirby expects that it will not be long before he has saturated all available cycles on his new cluster.
"A Linux cluster is perfect for running computationally demanding applications due to the high performance and reliability it provides," said Jenifer Audette, product manager at Paracel, Inc. "We are pleased that we have been able to contribute to the work of Prof. Kirby's department through our Paracel Cyclone contest."