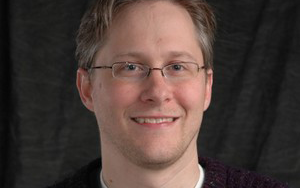 Parker, Steve Research Assistant Professor University of Utah
"The impact of high-performance computing on society has been astounding, but I believe that we are just starting to see the tip of the iceberg. HPC is going to play an integral role in tackling many of the world's toughest scientific challenges as we continue through the 21st century, and will shape our national policy, our laws, and even our health."
- Steve Parker
Why he's worth watching: As Research Assistant Professor at the University of Utah, Steve Parker specializes in HPC environments, focusing on tackling the toughest multi-scale, multi-physics computational challenges. "I believe that the HPC community needs more effective ways to bring large-scale machines to bear on a vast array of challenges," explains Parker. "Software that is easy to understand, reusable, robust, and reliable is vital to achieving the promise of HPC. We need software that can compute, manage, analyze, and visualize data in a much more straightforward manner, and it must scale to solve problems both large and small."
Development of HPC solutions that can be accessed ubiquitously across the spectrum is a familiar story that gets repeated throughout the universe of HPC, but for Parker, who serves as the Chief Software Architect for the University of Utah's Center for Simulation of Accidental Fires and Explosions, it's a matter of life and death. In this role, Parker leads the effort to build integrated multi-physics software environments to tackle large-scale simulations and analysis of fires and explosions on some of the largest computers in the world in order to evaluate risks and safety issues. "The real world is very complex, and we need algorithms and software that can make reliable predictions in spite of that complexity," explains Parker. "Such an environment is the goal of the Center for Simulation of Accidental Fires and Explosions."
Outside his work, Parker says that his family is his passion, where he finds himself the lone male in the pack. "I have four daughters that I love to watch learn and grow," says the proud father. Parker enjoys his role as a father, and occasionally struts his stuff as the family handy man. "When I have time, I like to build things around the house." His favorite projects include a bench and a crib that he built for his daughter. He says that he's done some extensive remodeling in several rooms of the house, and is proud to say that he does it all himself—from drywall, painting, plumbing, electrical, refinishing wood floors, and trim work.
When asked about his first paying job, Parker reveals an eager, opportunistic youth. "I started work at the age of 16 bussing tables at a restaurant," said the researcher who has developed algorithms for highly parallel interactive ray tracing to visualize some of the largest datasets available. "Before that, I babysat, gardened, and filled bags of ice at a convenience store to earn money."
Parker reveals the reflective outdoorsman in him when asked about his favorite place on Earth. "I love the Uintah mountain region in northeastern Utah," says Parker. "I enjoy the cool weather, the striking geography, and the feeling of being away from the world."
Parker demonstrated that his loyalty to his work carries through to his preferences for entertainment when asked about his favorite movie. "Toy Story is my favorite movie," reveals Parker. "Not only for the great story, but because it employed computer graphics in a groundbreaking way to tell the story. It is a movie that forever changed how children's stories are told, and made computer graphics a household word."
Ever the provider and family man, Parker exposes a tendency for the culinary arts when asked about an aspect of himself that might be surprising to his colleges. "I love to cook," he shares. His family enjoys his stuffed peppers, pepper-lime chicken, and saffron-cream chicken. One of his secrets, he shares, is watching "Good Eats" on the Food Network, which he enjoys because it goes into the science behind the process of cooking.