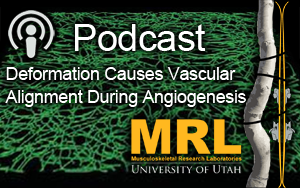 Jeff Weiss speaks with Deputy Editor of the AJP Heart and Circulatory Physiology Journal Dr. Merry Lindsey about the recent MRL publication:
Clayton J. Underwood, Lowell T. Edgar, James B. Hoying, Jeffrey A. Weiss "Cell-generated traction forces and the resulting matrix deformation modulate microvascular alignment and growth during angiogenesis" Am J Physiol Heart Circ Physiol, published July 15, 2014. DOI: 10.1152/ajpheart.00995.2013.
Listen to the podcast here.