SCI Publications
2017

S. Ghimire, J. Dhamala, J. Coll-Font, J. D. Tate, M. S. Guillem, D. H. Brooks, R. S. MacLeod, L. Wang. "Overcoming Barriers to Quantification and Comparison of Electrocardiographic Imaging Methods: A Community-Based Approach," In Computing in Cardiology, Vol. 44, 2017.
There has been a recent upsurge in the development of electrocardiographic imaging (ECGI) methods, along with a significant increase in clinical application. To better assess the state-of-the-art, enable reliable progress, and facilitate clinical adoption, it is important to be able to compare results in a comprehensive manner, scientifically and clinically. However, studies vary in modeling choices, computational methods, validation mechanisms and metrics, and clinical applications, making unified evaluation and comparison of ECGI a critical challenge.

This paper describes initial results of a project to address this challenge via a community-based approach organized by the Consortium for Electrocardiographic Imaging (CEI). We detail different aspects of this collective effort including a data sharing repository, a platform for comparison of different algorithms and modeling approaches on the same datasets, several active workgroups and progress made along these directions. We also summarize the results from groups participating in this collaboration and contributing solutions by applying their methods to the same dataset for comparison.
---

W. W. Good, B. Erem, J. Coll-Font, D. H. Brooks, R. S. MacLeod. "Detecting Ischemic Stress to the Myocardium Using Laplacian Eigenmaps and Changes to Conduction Velocity," In Computing in Cardiology, Vol. 44, IEEE, 2017.
The underlying pathophysiology of ischemia and its electrocardiographic consequences are poorly understood, resulting in unreliable diagnosis of this disease. This limited knowledge of underlying mechanisms suggests a data driven approach, which seeks to identify patterns in the ECG that can be linked statistically to underlying behavior and conditions of ischemic stress. The gold standard ECG metrics for evaluating ischemia monitor vertical deflections within the ST segment. However, ischemia influences all portions of the electrogram. Another metric that targets the QRS complex during ischemia is Conduction Velocity (CV). An even more inclusive, data driven approach is known as "Laplacian Eigenmaps" (LE), which can identify trajectories, or "manifolds", that respond to different spatiotemporal consequences of ischemic stress, and these changes to the trajectories on the manifold may serve as a clinically relevant biomarker. On this study, we compared the LE- and CV-based markers against two gold standards for detecting ischemic stress, both derived from the ST segment. We evaluated the response time and fidelity of each biomarker using a Time to Threshold (TTT) and Contrast Ratio (CR) measure, over 51 episodes recorded as cardiac electrograms from a canine model of controlled ischemia. The results show that metrics designed to monitor regions beyond the ST segment can perform at least as well, if not better, than traditional ST segment based metrics.
---
2016

K. Aras B. Burton, D. Swenson, R.S. MacLeod. "Spatial organization of acute myocardial ischemia," In Journal of Electrocardiology, Vol. 49, No. 3, Elsevier, pp. 323–336. May, 2016.
Introduction
Myocardial ischemia is a pathological condition initiated by supply and demand imbalance of the blood to the heart. Previous studies suggest that ischemia originates in the subendocardium, i.e., that nontransmural ischemia is limited to the subendocardium. By contrast, we hypothesized that acute myocardial ischemia is not limited to the subendocardium and sought to document its spatial distribution in an animal preparation. The goal of these experiments was to investigate the spatial organization of ischemia and its relationship to the resulting shifts in ST segment potentials during short episodes of acute ischemia.

Methods
We conducted acute ischemia studies in open-chest canines (N = 19) and swines (N = 10), which entailed creating carefully controlled ischemia using demand, supply or complete occlusion ischemia protocols and recording intramyocardial and epicardial potentials. Elevation of the potentials at 40% of the ST segment between the J-point and the peak of the T-wave (ST40%) provided the metric for local ischemia. The threshold for ischemic ST segment elevations was defined as two standard deviations away from the baseline values.

Results
The relative frequency of occurrence of acute ischemia was higher in the subendocardium (78% for canines and 94% for swines) and the mid-wall (87% for canines and 97% for swines) in comparison with the subepicardium (30% for canines and 22% for swines). In addition, acute ischemia was seen arising throughout the myocardium (distributed pattern) in 87% of the canine and 94% of the swine episodes. Alternately, acute ischemia was seen originating only in the subendocardium (subendocardial pattern) in 13% of the canine episodes and 6% of the swine episodes (p < 0.05).

Conclusions
Our findings suggest that the spatial distribution of acute ischemia is a complex phenomenon arising throughout the myocardial wall and is not limited to the subendocardium.
---

B. Erem, R.M. Orellana, D.E. Hyde, J.M. Peters, F.H. Duffy, P. Stovicek, S.K. Warfield, R.S. MacLeod, G. Tadmor, D.H. Brooks. "Extensions to a manifold learning framework for time-series analysis on dynamic manifolds in bioelectric signals," In Physical Review E, Vol. 93, No. 4, American Physical Society, apr, 2016.
DOI: 10.1103/physreve.93.042218
This paper addresses the challenge of extracting meaningful information from measured bioelectric signals generated by complex, large scale physiological systems such as the brain or the heart. We focus on a combination of the well-known Laplacian eigenmaps machine learning approach with dynamical systems ideas to analyze emergent dynamic behaviors. The method reconstructs the abstract dynamical system phase-space geometry of the embedded measurements and tracks changes in physiological conditions or activities through changes in that geometry. It is geared to extract information from the joint behavior of time traces obtained from large sensor arrays, such as those used in multiple-electrode ECG and EEG, and explore the geometrical structure of the low dimensional embedding of moving time windows of those joint snapshots. Our main contribution is a method for mapping vectors from the phase space to the data domain. We present cases to evaluate the methods, including a synthetic example using the chaotic Lorenz system, several sets of cardiac measurements from both canine and human hearts, and measurements from a human brain.
---

S. Guler, M. Dannhauer, B. Erem, R.S. Macleod, D. Tucker, S. Turovets, P. Luu, D. Erdogmus, D. Brooks. "Optimization of focality and direction in dense electrode array transcranial direct currentstimulation (tDCS)," In Journal of Neural Engineering, Vol. 13, No. 3, IOP Publishing, pp. 036020. May, 2016.
DOI: 10.1088/1741-2560/13/3/036020
OBJECTIVE:
Transcranial direct current stimulation (tDCS) aims to alter brain function non-invasively via electrodes placed on the scalp. Conventional tDCS uses two relatively large patch electrodes to deliver electrical current to the brain region of interest (ROI). Recent studies have shown that using dense arrays containing up to 512 smaller electrodes may increase the precision of targeting ROIs. However, this creates a need for methods to determine effective and safe stimulus patterns as the number of degrees of freedom is much higher with such arrays. Several approaches to this problem have appeared in the literature. In this paper, we describe a new method for calculating optimal electrode stimulus patterns for targeted and directional modulation in dense array tDCS which differs in some important aspects with methods reported to date.

APPROACH:
We optimize stimulus pattern of dense arrays with fixed electrode placement to maximize the current density in a particular direction in the ROI. We impose a flexible set of safety constraints on the current power in the brain, individual electrode currents, and total injected current, to protect subject safety. The proposed optimization problem is convex and thus efficiently solved using existing optimization software to find unique and globally optimal electrode stimulus patterns.

MAIN RESULTS:
Solutions for four anatomical ROIs based on a realistic head model are shown as exemplary results. To illustrate the differences between our approach and previously introduced methods, we compare our method with two of the other leading methods in the literature. We also report on extensive simulations that show the effect of the values chosen for each proposed safety constraint bound on the optimized stimulus patterns.

SIGNIFICANCE:
The proposed optimization approach employs volume based ROIs, easily adapts to different sets of safety constraints, and takes negligible time to compute. An in-depth comparison study gives insight into the relationship between different objective criteria and optimized stimulus patterns. In addition, the analysis of the interaction between optimized stimulus patterns and safety constraint bounds suggests that more precise current localization in the ROI, with improved safety criterion, may be achieved by careful selection of the constraint bounds.
---

I.A. Polejaeva, R. Ranjan, C.J. Davies, M. Regouski, J. Hall, A.L. Olsen, Q. Meng, H.M. Rutigliano, D.J. Dosdall, N.A. Angel, F.B. Sachse, T. Seidel, A.J. Thomas, R. Stott, K.E. Panter, P.M. Lee, A.J. Van Wettere, J.R. Stevens, Z. Wang, R.S. Macleod, N.F. Marrouche, K.L. White. "Increased Susceptibility to Atrial Fibrillation Secondary to Atrial Fibrosis in Transgenic Goats Expressing Transforming Growth Factor-β1," In Journal of Cardiovascular Electrophysiology, Vol. 27, No. 10, Wiley-Blackwell, pp. 1220--1229. Aug, 2016.
DOI: 10.1111/jce.13049
Introduction
Large animal models of progressive atrial fibrosis would provide an attractive platform to study relationship between structural and electrical remodeling in atrial fibrillation (AF). Here we established a new transgenic goat model of AF with cardiac specific overexpression of TGF-β1 and investigated the changes in the cardiac structure and function leading to AF.

Methods and Results
Transgenic goats with cardiac specific overexpression of constitutively active TGF-β1 were generated by somatic cell nuclear transfer. We examined myocardial tissue, ECGs, echocardiographic data, and AF susceptibility in transgenic and wild-type control goats. Transgenic goats exhibited significant increase in fibrosis and myocyte diameters in the atria compared to controls, but not in the ventricles. P-wave duration was significantly greater in transgenic animals starting at 12 months of age, but no significant chamber enlargement was detected, suggesting conduction slowing in the atria. Furthermore, this transgenic goat model exhibited a significant increase in AF vulnerability. Six of 8 transgenic goats (75%) were susceptible to AF induction and exhibited sustained AF (>2 minutes), whereas none of 6 controls displayed sustained AF (P < 0.01). Length of induced AF episodes was also significantly greater in the transgenic group compared to controls (687 ± 212.02 seconds vs. 2.50 ± 0.88 seconds, P < 0.0001), but no persistent or permanent AF was observed.

Conclusion
A novel transgenic goat model with a substrate for AF was generated. In this model, cardiac overexpression of TGF-β1 led to an increase in fibrosis and myocyte size in the atria, and to progressive P-wave prolongation. We suggest that these factors underlie increased AF susceptibility.
---
2015

K.K. Aras, W. Good, J. Tate, B.M. Burton, D.H. Brooks, J. Coll-Font, O. Doessel, W. Schulze, D. Patyogaylo, L. Wang, P. Van Dam,, R.S. MacLeod. "Experimental Data and Geometric Analysis Repository: EDGAR," In Journal of Electrocardiology, 2015.
Introduction
The "Experimental Data and Geometric Analysis Repository", or EDGAR is an Internet-based archive of curated data that are freely distributed to the international research community for the application and validation of electrocardiographic imaging (ECGI) techniques. The EDGAR project is a collaborative effort by the Consortium for ECG Imaging (CEI, ecg-imaging.org), and focused on two specific aims. One aim is to host an online repository that provides access to a wide spectrum of data, and the second aim is to provide a standard information format for the exchange of these diverse datasets.

Methods
The EDGAR system is composed of two interrelated components: 1) a metadata model, which includes a set of descriptive parameters and information, time signals from both the cardiac source and body-surface, and extensive geometric information, including images, geometric models, and measure locations used during the data acquisition/generation; and 2) a web interface. This web interface provides efficient, search, browsing, and retrieval of data from the repository.

Results
An aggregation of experimental, clinical and simulation data from various centers is being made available through the EDGAR project including experimental data from animal studies provided by the University of Utah (USA), clinical data from multiple human subjects provided by the Charles University Hospital (Czech Republic), and computer simulation data provided by the Karlsruhe Institute of Technology (Germany).

Conclusions
It is our hope that EDGAR will serve as a communal forum for sharing and distribution of cardiac electrophysiology data and geometric models for use in ECGI research.
---

Y. Gao, L. Zhu, J. Cates, R. S. MacLeod, S. Bouix,, A. Tannenbaum. "A Kalman Filtering Perspective for Multiatlas Segmentation," In SIAM J. Imaging Sciences, Vol. 8, No. 2, pp. 1007-1029. 2015.
DOI: 10.1137/130933423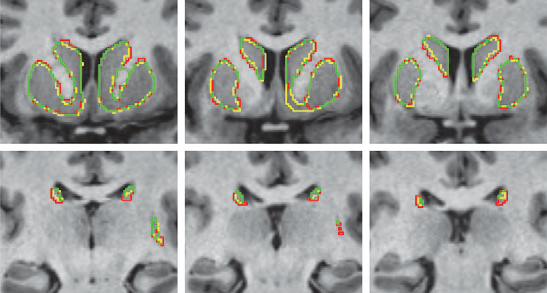 In multiatlas segmentation, one typically registers several atlases to the novel image, and their respective segmented label images are transformed and fused to form the final segmentation. In this work, we provide a new dynamical system perspective for multiatlas segmentation, inspired by the following fact: The transformation that aligns the current atlas to the novel image can be not only computed by direct registration but also inferred from the transformation that aligns the previous atlas to the image together with the transformation between the two atlases. This process is similar to the global positioning system on a vehicle, which gets position by inquiring from the satellite and by employing the previous location and velocity—neither answer in isolation being perfect. To solve this problem, a dynamical system scheme is crucial to combine the two pieces of information; for example, a Kalman filtering scheme is used. Accordingly, in this work, a Kalman multiatlas segmentation is proposed to stabilize the global/affine registration step. The contributions of this work are twofold. First, it provides a new dynamical systematic perspective for standard independent multiatlas registrations, and it is solved by Kalman filtering. Second, with very little extra computation, it can be combined with most existing multiatlas segmentation schemes for better registration/segmentation accuracy.
---

K. Gillette, J.D. Tate, B. Kindall, P. Van Dam, E. Kholmovski, R.S. MacLeod. "Generation of Combined-Modality Tetrahedral Meshes," In Computing in Cardiology, 2015.
Registering and combining anatomical components from different image modalities, like MRI and CT that have different tissue contrast, could result in patient-specific models that more closely represent underlying anatomical structures.

In this study, we combined a pair of CT and MRI scans of a pig thorax to make a tetrahedral mesh and compared different registration techniques including rigid, affine, thin plate spline morphing (TPSM), and iterative closest point (ICP), to superimpose the segmented bones from the CT scan on the soft tissues segmented from the MRI. The TPSM and affine-registered bones remained close to, but not overlapping, important soft tissue.

Simulation models, including an ECG forward model and a defibrillation model, were computed on generated multi-modality meshes after TPSM and affine registration and compared to those based on the original torso mesh.
---

K.S. McDowell, S. Zahid, F. Vadakkumpadan, J.J. Blauer, R.S. MacLeod, N.A. Trayanova. "Virtual Electrophysiological Study of Atrial Fibrillation in Fibrotic Remodeling," In PLoS ONE, Vol. 10, No. 2, pp. e0117110. February, 2015.
DOI: 10.1371/journal.pone.0117110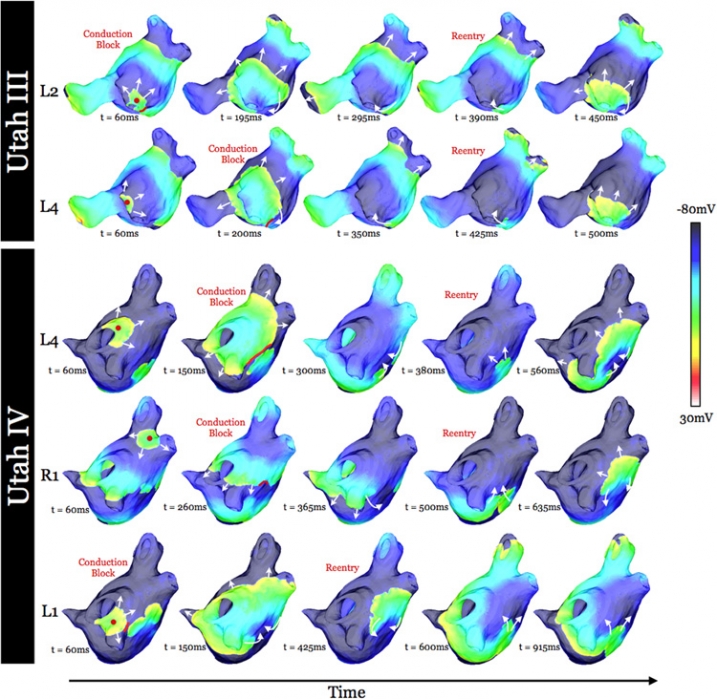 Research has indicated that atrial fibrillation (AF) ablation failure is related to the presence of atrial fibrosis. However it remains unclear whether this information can be successfully used in predicting the optimal ablation targets for AF termination. We aimed to provide a proof-of-concept that patient-specific virtual electrophysiological study that combines i) atrial structure and fibrosis distribution from clinical MRI and ii) modeling of atrial electrophysiology, could be used to predict: (1) how fibrosis distribution determines the locations from which paced beats degrade into AF; (2) the dynamic behavior of persistent AF rotors; and (3) the optimal ablation targets in each patient. Four MRI-based patient-specific models of fibrotic left atria were generated, ranging in fibrosis amount. Virtual electrophysiological studies were performed in these models, and where AF was inducible, the dynamics of AF were used to determine the ablation locations that render AF non-inducible. In 2 of the 4 models patient-specific models AF was induced; in these models the distance between a given pacing location and the closest fibrotic region determined whether AF was inducible from that particular location, with only the mid-range distances resulting in arrhythmia. Phase singularities of persistent rotors were found to move within restricted regions of tissue, which were independent of the pacing location from which AF was induced. Electrophysiological sensitivity analysis demonstrated that these regions changed little with variations in electrophysiological parameters. Patient-specific distribution of fibrosis was thus found to be a critical component of AF initiation and maintenance. When the restricted regions encompassing the meander of the persistent phase singularities were modeled as ablation lesions, AF could no longer be induced. The study demonstrates that a patient-specific modeling approach to identify non-invasively AF ablation targets prior to the clinical procedure is feasible.
---

B.R. Parmar, T.R. Jarrett, E.G. Kholmovski, N. Hu, D. Parker, R.S. MacLeod, N.F. Marrouche, R. Ranjan. "Poor scar formation after ablation is associated with atrial fibrillation recurrence," In Journal of Interventional Cardiac Electrophysiology, Vol. 44, No. 3, pp. 247-256. December, 2015.
Purpose
Patients routinely undergo ablation for atrial fibrillation (AF) but the recurrence rate remains high. We explored in this study whether poor scar formation as seen on late-gadolinium enhancement magnetic resonance imaging (LGE-MRI) correlates with AF recurrence following ablation.

Methods
We retrospectively identified 94 consecutive patients who underwent their initial ablation for AF at our institution and had pre-procedural magnetic resonance angiography (MRA) merged with left atrial (LA) anatomy in an electroanatomic mapping (EAM) system, ablated areas marked intraprocedurally in EAM, 3-month post-ablation LGE-MRI for assessment of scar, and minimum of 3-months of clinical follow-up. Ablated area was quantified retrospectively in EAM and scarred area was quantified in the 3-month post-ablation LGE-MRI.

Results
With the mean follow-up of 336 days, 26 out of 94 patients had AF recurrence. Age, hypertension, and heart failure were not associated with AF recurrence, but LA size and difference between EAM ablated area and LGE-MRI scar area was associated with higher AF recurrence. For each percent higher difference between EAM ablated area and LGE-MRI scar area, there was a 7–9 % higher AF recurrence (p values 0.001–0.003) depending on the multivariate analysis.

Conclusions
In AF ablation, poor scar formation as seen on LGE-MRI was associated with AF recurrence. Improved mapping and ablation techniques are necessary to achieve the desired LA scar and reduce AF recurrence.
---
2014

J.J.E. Blauer, D. Swenson, K. Higuchi, G. Plank, R. Ranjan, N. Marrouche,, R.S. MacLeod. "Sensitivity and Specificity of Substrate Mapping: An In Silico Framework for the Evaluation of Electroanatomical Substrate Mapping Strategies," In Journal of Cardiovascular Electrophysiology, In Journal of Cardiovascular Electrophysiology, Vol. 25, No. 7, Note: Featured on journal cover., pp. 774--780. May, 2014.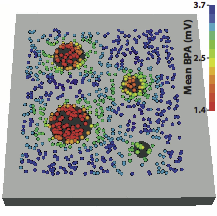 Background
- Voltage mapping is an important tool for characterizing proarrhythmic electrophysiological substrate, yet it is subject to geometric factors that influence bipolar amplitudes and thus compromise performance. The aim of this study was to characterize the impact of catheter orientation on the ability of bipolar amplitudes to accurately discriminate between healthy and diseased tissues.
Methods and Results
- We constructed a three-dimensional,
in-silico
, bidomain model of cardiac tissue containing transmural lesions of varying diameter. A planar excitation wave was stimulated and electrograms were sampled with a realistic catheter model at multiple positions and orientations. We carried out validation studies in animal experiments of acute ablation lesions mapped with a clinical mapping system. Bipolar electrograms sampled at higher inclination angles of the catheter with respect to the tissue demonstrated improvements in both sensitivity and specificity of lesion detection. Removing low voltage electrograms with concurrent activation of both electrodes, suggesting false attenuation of the bipolar electrogram due to alignment with the excitation wavefront, had little effect on the accuracy of voltage mapping.
Conclusions
- Our results demonstrate possible mechanisms for the impact of catheter orientation on voltage mapping accuracy. Moreover, results from our simulations suggest that mapping accuracy may be improved by selectively controlling the inclination of the catheter to record at higher angles with respect to the tissue.
Keywords: arrhythmia, computer-based model, electroanatomical mapping, voltage mapping, bipolar electrogram
---

C. McGann, N. Akoum, A. Patel, E. Kholmovski, P. Revelo, K. Damal, B. Wilson, J. Cates, A. Harrison, R. Ranjan, N.S. Burgon, T. Greene, D. Kim, E.V. Dibella, D. Parker, R.S. MacLeod, N.F. Marrouche. "Atrial fibrillation ablation outcome is predicted by left atrial remodeling on MRI," In Circ Arrhythm Electrophysiol, Vol. 7, No. 1, pp. 23--30. 2014.
DOI: 10.1161/CIRCEP.113.000689
PubMed ID: 24363354
BACKGROUND:
Although catheter ablation therapy for atrial fibrillation (AF) is becoming more common, results vary widely, and patient selection criteria remain poorly defined. We hypothesized that late gadolinium enhancement MRI (LGE-MRI) can identify left atrial (LA) wall structural remodeling (SRM) and stratify patients who are likely or not to benefit from ablation therapy.
METHODS AND RESULTS:
LGE-MRI was performed on 426 consecutive patients with AF without contraindications to MRI before undergoing their first ablation procedure and on 21 non-AF control subjects. Patients were categorized by SRM stage (I-IV) based on the percentage of LA wall enhancement for correlation with procedure outcomes. Histological validation of SRM was performed comparing LGE-MRI with surgical biopsy. A total of 386 patients (91%) with adequate LGE-MRI scans were included in the study. After ablation, 123 patients (31.9%) experienced recurrent atrial arrhythmias during the 1-year follow-up. Recurrent arrhythmias (failed ablations) occurred at higher SRM stages with 28 of 133 (21.0%) in stage I, 40 of 140 (29.3%) in stage II, 24 of 71 (33.8%) in stage III, and 30 of 42 (71.4%) in stage IV. In multivariate analysis, ablation outcome was best predicted by advanced SRM stage (hazard ratio, 4.89; P
---

M. Milanič, V. Jazbinšek, R.S. MacLeod, D.H. Brooks, R. Hren. "Assessment of regularization techniques for electrocardiographic imaging," In Journal of electrocardiology, Vol. 47, No. 1, pp. 20--28. 2014.
DOI: 10.1016/j.jelectrocard.2013.10.004
A widely used approach to solving the inverse problem in electrocardiography involves computing potentials on the epicardium from measured electrocardiograms (ECGs) on the torso surface. The main challenge of solving this electrocardiographic imaging (ECGI) problem lies in its intrinsic ill-posedness. While many regularization techniques have been developed to control wild oscillations of the solution, the choice of proper regularization methods for obtaining clinically acceptable solutions is still a subject of ongoing research. However there has been little rigorous comparison across methods proposed by different groups. This study systematically compared various regularization techniques for solving the ECGI problem under a unified simulation framework, consisting of both 1) progressively more complex idealized source models (from single dipole to triplet of dipoles), and 2) an electrolytic human torso tank containing a live canine heart, with the cardiac source being modeled by potentials measured on a cylindrical cage placed around the heart. We tested 13 different regularization techniques to solve the inverse problem of recovering epicardial potentials, and found that non-quadratic methods (total variation algorithms) and first-order and second-order Tikhonov regularizations outperformed other methodologies and resulted in similar average reconstruction errors.
---

B.R. Parmar, T.R. Jarrett, N.S. Burgon, E.G. Kholmovski, N.W. Akoum, N. Hu, R.S. Macleod, N.F. Marrouche, R. Ranjan. "Comparison of Left Atrial Area Marked Ablated in Electroanatomical Maps with Scar in MRI," In Journal of Cardiovascular Electrophysiology, 2014.
DOI: 10.1111/jce.12357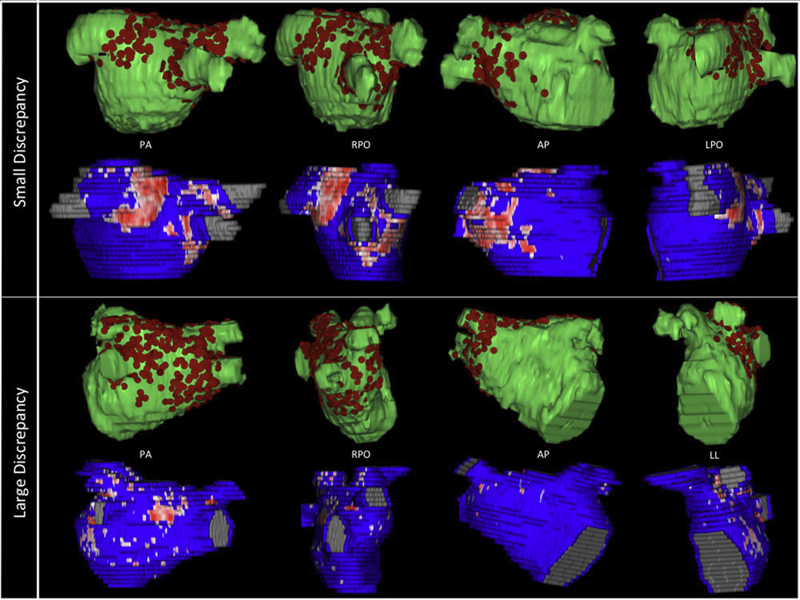 Background
Three-dimensional electroanatomic mapping (EAM) is routinely used to mark ablated areas during radiofrequency ablation. We hypothesized that, in atrial fibrillation (AF) ablation, EAM overestimates scar formation in the left atrium (LA) when compared to the scar seen on late-gadolinium enhancement magnetic resonance imaging (LGE-MRI).
Methods and Results
Of the 235 patients who underwent initial ablation for AF at our institution between August 2011 and December 2012, we retrospectively identified 70 patients who had preprocedural magnetic resonance angiography merged with LA anatomy in EAM software and had a 3-month postablation LGE-MRI for assessment of scar. Ablated area was marked intraprocedurally using EAM software and quantified retrospectively. Scarred area was quantified in 3-month postablation LGE-MRI. The mean ablated area in EAM was 30.5 ± 7.5% of the LA endocardial surface and the mean scarred area in LGE-MRI was 13.9 ± 5.9% (P < 0.001). This significant difference in the ablated area marked in the EAM and scar area in the LGE-MRI was present for each of the 3 independent operators. Complete pulmonary vein (PV) encirclement representing electrical isolation was observed in 87.8% of the PVs in EAM as compared to only 37.4% in LGE-MRI (P < 0.001).
Conclusions
In AF ablation, EAM significantly overestimates the resultant scar as assessed with a follow-up LGE-MRI.
Keywords: atrial fibrillation, magnetic resonance imaging, radiofrequency ablation
---
2013

B. Burton, B. Erem, K. Potter, P. Rosen, C.R. Johnson, D. Brooks, R.S. Macleod. "Uncertainty Visualization in Forward and Inverse Cardiac Models," In Computing in Cardiology CinC, pp. 57--60. 2013.
ISSN: 2325-8861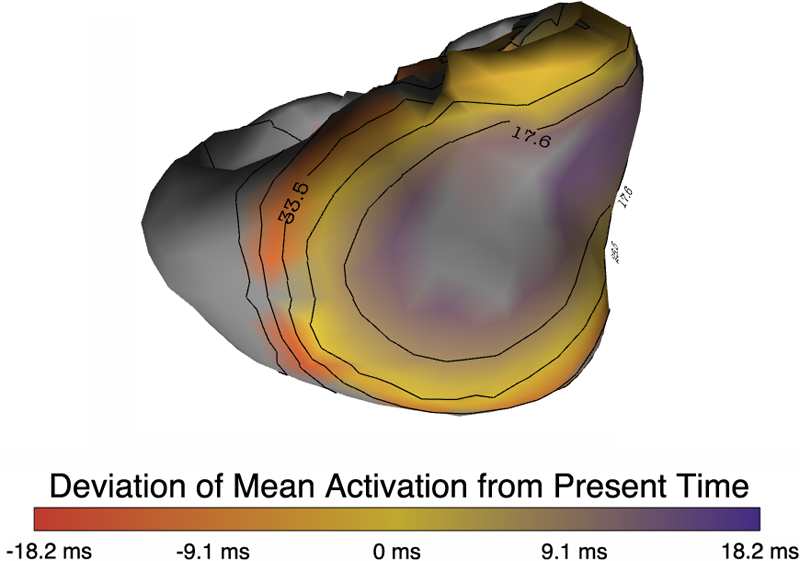 Quantification and visualization of uncertainty in cardiac forward and inverse problems with complex geometries is subject to various challenges. Specific to visualization is the observation that occlusion and clutter obscure important regions of interest, making visual assessment difficult. In order to overcome these limitations in uncertainty visualization, we have developed and implemented a collection of novel approaches. To highlight the utility of these techniques, we evaluated the uncertainty associated with two examples of modeling myocardial activity. In one case we studied cardiac potentials during the repolarization phase as a function of variability in tissue conductivities of the ischemic heart (forward case). In a second case, we evaluated uncertainty in reconstructed activation times on the epicardium resulting from variation in the control parameter of Tikhonov regularization (inverse case). To overcome difficulties associated with uncertainty visualization, we implemented linked-view windows and interactive animation to the two respective cases. Through dimensionality reduction and superimposed mean and standard deviation measures over time, we were able to display key features in large ensembles of data and highlight regions of interest where larger uncertainties exist.
---

D.J. Dosdall, R. Ranjan, K. Higuchi, E. Kholmovski, N. Angel, L. Li, R.S. Macleod, L. Norlund, A. Olsen, C.J. Davies, N.F. Marrouche. "Chronic atrial fibrillation causes left ventricular dysfunction in dogs but not goats: experience with dogs, goats, and pigs," In American Journal of Physiology: Heart and Circulatory Physiology, Vol. 305, No. 5, pp. H725--H731. September, 2013.
DOI: 10.1152/ajpheart.00440.2013
PubMed ID: 23812387
PubMed Central ID: PMC4116536
Structural remodeling in chronic atrial fibrillation (AF) occurs over weeks to months. To study the electrophysiological, structural, and functional changes that occur in chronic AF, the selection of the best animal model is critical. AF was induced by rapid atrial pacing (50-Hz stimulation every other second) in pigs (n = 4), dogs (n = 8), and goats (n = 9). Animals underwent MRIs at baseline and 6 mo to evaluate left ventricular (LV) ejection fraction (EF). Dogs were given metoprolol (50-100 mg po bid) and digoxin (0.0625-0.125 mg po bid) to limit the ventricular response rate to ot appropriate for chronic rapid atrial pacing-induced AF studies. Rate-controlled chronic AF in the dog model developed HF and LV fibrosis, whereas the goat model developed only atrial fibrosis without ventricular dysfunction and fibrosis. Both the dog and goat models are representative of segments of the patient population with chronic AF.
Keywords: animal models, chronic atrial fibrillation, fibrosis, heart failure, rapid atrial pacing
---

B. Erem, J. Coll-Font, R.M. Orellana, P. Stovicek, D.H. Brooks, R.S. MacLeod. "Noninvasive reconstruction of potentials on endocardial surface from body surface potentials and CT imaging of partial torso," In Journal of Electrocardiology, Vol. 46, No. 4, pp. e28. 2013.
DOI: 10.1016/j.jelectrocard.2013.05.104
---

B. Erem, R.M. Orellana, P. Stovicek, D.H. Brooks, R.S. MacLeod. "Improved averaging of multi-lead ECGs and electrograms," In Journal of Electrocardiology, Vol. 46, No. 4, Elsevier, pp. e28. July, 2013.
DOI: 10.1016/j.jelectrocard.2013.05.103
---

G. Gardner, A. Morris, K. Higuchi, R.S. MacLeod, J. Cates. "A Point-Correspondence Approach to Describing the Distribution of Image Features on Anatomical Surfaces, with Application to Atrial Fibrillation," In Proceedings of the 2013 IEEE 10th International Symposium on Biomedical Imaging (ISBI), pp. 226--229. 2013.
DOI: 10.1109/ISBI.2013.6556453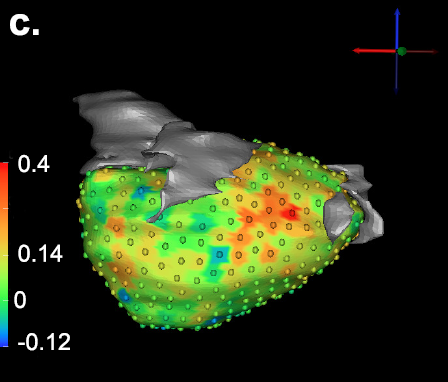 This paper describes a framework for summarizing and comparing the distributions of image features on anatomical shape surfaces in populations. The approach uses a pointbased correspondence model to establish a mapping among surface positions and may be useful for anatomy that exhibits a relatively high degree of shape variability, such as cardiac anatomy. The approach is motivated by the MRI-based study of diseased, or fibrotic, tissue in the left atrium of atrial fibrillation (AF) patients, which has been difficult to measure quantitatively using more established image and surface registration techniques. The proposed method is to establish a set of point correspondences across a population of shape surfaces that provides a mapping from any surface to a common coordinate frame, where local features like fibrosis can be directly compared. To establish correspondence, we use a previously-described statistical optimization of particle-based shape representations. For our atrial fibrillation population, the proposed method provides evidence that more intense and widely distributed fibrosis patterns exist in patients that do not respond well to radiofrequency ablation therapy.
---