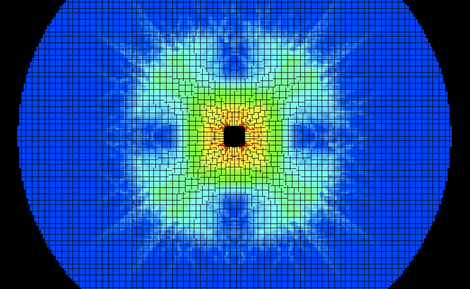 Multiscale Modeling of Accidental Explosions and Detonations
J. Beckvermit, J. Peterson, T. Harman, S. Bardenhagen, C. Wight, Q. Meng, M. Berzins. In Computing in Science and Engineering, Vol. 15, No. 4, pp. 76--86. 2013.
DOI: 10.1109/MCSE.2013.89

Accidental explosions are exceptionally dangerous and costly, both in lives and money. Regarding world-wide conflict with small arms and light weapons, the Small Arms Survey has recorded over 297 accidental explosions in munitions depots across the world that have resulted in thousands of deaths and billions of dollars in damage in the past decade alone [45]. As the recent fertilizer plant explosion that killed 15 people in West, Texas demonstrates, accidental explosions are not limited to military operations. Transportation accidents also pose risks, as illustrated by the occasional train derailment/explosion in the nightly news, or the semi-truck explosion detailed in the following section. Unlike other industrial accident scenarios, explosions can easily affect the general public, a dramatic example being the PEPCON disaster in 1988, where windows were shattered, doors blown off their hinges, and flying glass and debris caused injuries up to 10 miles away.

While the relative rarity of accidental explosions speaks well of our understanding to date, their violence rightly gives us pause. A better understanding of these materials is clearly still needed, but a significant barrier is the complexity of these materials and the various length scales involved. In typical military applications, explosives are known to be ignited by the coalescence of hot spots which occur on micrometer scales. Whether this reaction remains a deflagration (burning) or builds to a detonation depends both on the stimulus and the boundary conditions or level of confinement. Boundary conditions are typically on the scale of engineered parts, approximately meters. Additional dangers are present at the scale of trucks and factories. The interaction of various entities, such as barrels of fertilizer or crates of detonators, admits the possibility of a sympathetic detonation, i.e. the unintended detonation of one entity by the explosion of another, generally caused by an explosive shock wave or blast fragments.

While experimental work has been and will continue to be critical to developing our fundamental understanding of explosive initiation, de agration and detonation, there is no practical way to comprehensively assess safety on the scale of trucks and factories experimentally. The scenarios are too diverse and the costs too great. Numerical simulation provides a complementary tool that, with the steadily increasing computational power of the past decades, makes simulations at this scale begin to look plausible. Simulations at both the micrometer scale, the "mesoscale", and at the scale of engineered parts, the "macro-scale", have been contributing increasingly to our understanding of these materials. Still, simulations on this scale require both massively parallel computational infrastructure and selective sampling of mesoscale response, i.e. advanced computational tools and modeling. The computational framework Uintah [1] has been developed for exactly this purpose.